The Economist Seeks Termination of Printing Agreement with Quebecor World

Publisher looking to end contract, but says it is open to new arrangement.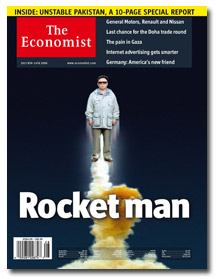 The Economist is looking to terminate its contract with commercial printer Quebecor World, but says it is open to discussing how to continue the relationship, according to a statement filed jointly by the companies. Quebecor World filed for bankruptcy protection earlier this year.
According to a court filing, The Economist wants to terminate its print agreement at the expiration of the initial term in September. The printing agreement would continue to be valid until then.
The Economist argues that it is being harmed by some of the automatic legal protection that the printer has received under its bankruptcy agreeement. According to the filing, the magazine "is not seeking to enforce a monetary claim against the debtors of their estates. The Economist merely seeks to exercise its contractual right to terminate the printing agreement."
"We understand and respect the decision taken by The Economist and we will continue to provide them with the top quality product and service they expect," Quebecor World Magazine Group president Doron Grosman said in the joint statement. "We will also work with them in the coming months to prolong and extend our mutually beneficial partnership."
A Quebecor spokesperson could not immediately be reached for further comment.
In the court filing, The Economist does not say why it is seeking a termination of the printing agreement. A spokesperson for The Economist declined to comment.
Quebecor World, one of the world's largest printers, announced its bankruptcy filing in January and its entering into a $1 billion financing deal with Credit Suisse and Morgan Stanley to help finance the company's operating needs. Earlier this week, the ailing printer said that, under bankruptcy protection, it would delay the release and filing of its 2007 financial statements until the end of April.
Meet the Author
---