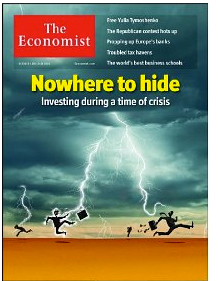 If audience developers needed more of a reason to closely maintain subscription databases, The Economist can serve as a prime cautionary anecdote. Reports say The Economist will begin revoking premium digital subscriptions, after the publication realized some readers have been receiving their subs for free.
According to paidContent, The Economist has been giving some users freebies for upward of five years. Economist digital editions publisher Oscar Grut tells the website, "There was an error in our databases which resulted in a number of people being assigned full subscription rights by mistake." The extent of non-paying subscribers remains unclear up to this point.
In an email to users, The Economist says, "We are asking readers to move to a new app. The main difference (as you spotted) is that it provides for iTunes subscriptions," Grut says. "We will probably take the old one off the App Store, eventually. With the latest update, we have removed the subscription capability from this old one.
"I'm not sure forcing an upgrade to the new app would be a very nice way to do it, though we are strongly encouraging it! The thought of a web version (ie, HTML5) is intriguing, but we're going to keep producing and supporting apps."
Despite of (or maybe in part due to) this mishap, The Economist is enjoying a fruitful 2011. In June, the publication reported a 14 percent growth in print ad pages in fiscal 2011, along with a 23 percent spike in digital ads. In August, The Economist boasted its largest number of North American subs in its history, with 844,387 subscribers.