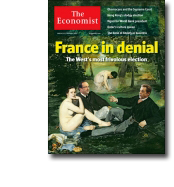 The Economist announced Wednesday that its Facebook page has surpassed the 1 million fan milestone. Nick Blunden, global publisher of digital editions for The Economist, says the print brand's status has translated well to the social Web.
The number is interesting—The Economist has a global circulation of 1.5 million, which includes print and digital figures, according to an Audit Bureau of Circulations July-December 2011 report. While the number of online fans could surpass that of actual circulation, The Economist is still coming out ahead of its competition: TIME  has just over 489,000 fans; The Wall Street Journal has just over 471,000 fans; The Atlantic with just over 91,000, and Bloomberg Businessweek with just over 47,500.
"We have focused, primarily, on the best ways and the most engaging ways to put content into social media and primarily Facebook," says Blunden. "Our view is that The Economist has always been a very social brand and had a great deal of social currency, even long before social media existed. People used to wander around with a copy of The Economist under their arm to signify they were interested in the world. Now, in the social media world, if you want to associate yourself with The Economist and show you're interested in the world, you share our content on Facebook and Twitter. What Facebook has allowed us to do is unlock the inherent social value of our content."
Blunden says the best way for his brand to post content on Facebook is through timing and targeted editorial choices instead of taking content and posting it online as and when it becomes available. The Economist's social media team looks to see what popular content is trending around the wider news environment, across the Internet and on Facebook. From there, the team posts news on a regional time basis, reposting things that were initially uploaded during American daylight hours, and putting it up again hours later to ensure it is picked up in Asia. Posts are generally not uploaded more than once an hour, but the team does not let three or four hours go by without posting something.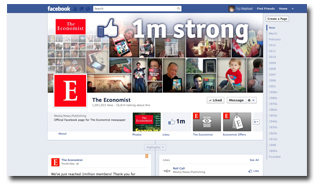 "We've found that infographics or charts that we produce on a daily basis have huge value in Facebook," he says. "It's visual content you can consume relatively quickly and Facebook is a visual medium. We focus on content types we think people will want to engage with specifically while they're on Facebook, as opposed to what they might want to engage with in our magazine or apps. I think that has helped fuel people's associations with The Economist."
Blunden adds that The Economist looks to its Facebook audience to provide a value exchange. Instead of using the platform as an opportunity to promote circulation-marketing messages, The Economist uses Facebook to create value for its audience. The publication developed an Economist quiz on Facebook for fans to test their knowledge of world events, and the brand itself.
"Rather than just say, 'How can we serve as many circulation messages to these people as we can,' we first decided we needed to give some value back to them," says Blunden. "Then we'd have an opportunity to invite them to become paying customers of our business. Getting that value right is really critical."
The group deliberately released the new Facebook timeline (pictured above) as it hit 1 million fans. In preparation of the milestone, readers were encouraged to share their experiences with The Economist and the different ways they consume it—some lucky readers are included in the timeline's main image.
Going forward, Blunden believes that while the group does not have all the answers on building the perfect timeline, the feature will generally help brands, including The Economist, continue to propel fan and brand interaction.
"We're really excited about it because we think it offers even more engagement than the traditional brand page on Facebook," he says. "It plays to our advantages because we're 169 years old. You can go onto our timeline right now and see the first-ever front cover of The Economist, or go back through our 160-year history and see all of the stories we think are really interesting and comment on what's gone on through the years. Fans can see a black and white print publication of The Economist from 160 years ago, and see how it became a fully multiplatform, multimedia organization today. It will help us to further unlock our value and we're pretty excited about that: Telling the narrative history of The Economist through Facebook, which is a significant task."