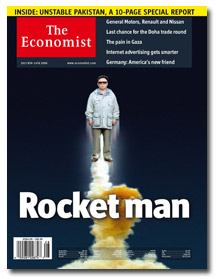 An attempt by The Economist to gain rights to the domain name TheEconomist.com has been denied by the World Intellectual Property Organization.
The Economist filed its claim with WIPO on November 9, 2007. The magazine's Web site is registered as simply economist.com.
In its petition to WIPO, The Economist argued that the disputed domain name is identical to the magazine's registered trademarks, and that the individual who registered the name has no "legitimate interests" in the name. Theeconomist.com was registered in November 1996 by Jason Rose, owner of Maryland-based TE Internet Services. The site has been used as a tribute site to former U.S. chairman of the Federal Reserve Alan Greenspan, but its content has not been updated since April 2002. Rose, according to WIPO, denies that he had knowledge of The Economist magazine in 1996 when he registered the name.
According to WIPO's administrative panel decision document, The Economist first learned of theeconomist.com in 2001 and contacted Rose seeking a transfer of rights. Rose apparently did not respond to the request, and the magazine did not take further action until last August when, through an intermediary, it attempted to purchase the rights to the name for $500. Rose declined the offer.
The offer was apparently prompted by a review of domain names at The Economist which determined that theeconomist.com was generating a "significant amount of Internet traffic," the WIPO document says.
Under WIPO rules, rights to a domain name can only be transferred if the complaining party can prove: that the name is identical or "confusingly similar" to a trademark or service for which it has rights, if the owner has no rights or legitimate interests in the name, and that the name was registered and used in bad faith.
In its decision, the WIPO concluded that, although it was "skeptical," and "has some doubts," The Economist magazine failed to prove that Rose and TE Internet Services used the domain name in bad faith. "The only way that Mr. Rose's assertions can be tested is in litigation where a judge would have proper opportunity of assessing the quality of this evidence. A proceeding under the policy is not the proper forum for determining such a belated issue of fact," WIPO said in the document.
An Economist spokesperson declined to comment, other than to say that it's "an ongoing legal matter."