Economist Group's Digital-Only Sales Reach 100,000

There are now a total of 400,000 paying users access digital content.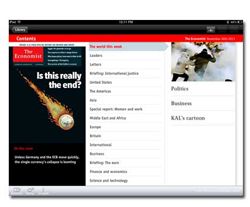 While publications continue to cross their fingers in hopes that digital content will pay off, The Economist Group is seeing digital-only sales grow—now to 100,000. In total, there are now 400,000 paying users accessing digital content. The success was realized partially from a heavy push in the past 4 to 5 months to get individuals to begin paying for the digital content.
"There was a bit of demand already in the market," says Paul Rossi, managing director and executive vice president of The Economist Group. "We got people to download our app through some traditional direct marketing campaigns, through online banners as well as PR. The positioning on the AppStore also helped us and Apple has featured us in advertisements. Reaching the number was a combination of traditional direct marketing and PR, as well as a bit of luck."
Rossi adds that the increased number of tablet devices has given users a heightened desire to acquire digital access. Right now, about 3 million people have downloaded The Economist app, which is part of the strategy for the group—getting users to first download and eventually pay.
"One of the strongest mechanisms to get people to subscribe or buy a single copy are the people who already have the app," he says. "They will then be prompted to buy a subscription or single copy. Those 3 million readers out there with apps on their devices, that's a very important market for us."
Right now, those that don't pay for The Economist app can only read 5 free articles a week. Rossi believes that as the proliferation of tablet devices and competitors continue to emerge, so will to the continued growth of The Economist.
"The two main groups right now are Apple and Kindle," says Rossi. "For us the biggest demographic is the Apple iPad and iPhone and the Kindle has a very loyal core following when you look at our numbers. The number that's really starting to grow slowly, because we launched slightly later, is the Android number. We're seeing the vast majority coming through the app and right now the dominant devices are Apple. The one to watch, though, is the Kindle. It's been core, but relatively flat, but I think with the introduction of the Kindle Fire, it's a much better magazine reading device than the original Kindle. We'll begin to watch the Kindle Fire since it launched and because of the holiday season. We'll see growth because the market is growing."
The Economist Group plans to continue digital sales through testing the market place—Rossi says that campaigns to generate print subscribers take on different methods when grappling with the digital medium.
"It's learning what works," he says. "When marketing a subscription to The Economist in print, we've got 30 to 40 years of history and experience on what offers to make, what creative works, what names to use and what lists to use because there's a lot of institutional learning there. With apps, we're starting form scratch. Right now it's about testing and learning and once we define it that's when we can invest more to reach scale."
The group has also seen digital growth through its Web site, with the number of unique month visitors increasing by 45 percent this year to about 7 million. Additionally, print circulation grew by 3 percent to almost 1.5 million copies.
"We don't believe that print is dead," says Rossi. "We do believe that as these devices become more common, they are changing reader behavior in the way they read books, magazines and even watch video. That is an opportunity to find new readers, to grow the overall number of people consuming The Economist. Today we see a continuation of print but an opportunity to grow faster with the introduction of digital. The strategy of selling more subscriptions or copies of The Economist is the same; it's just recognizing that digital is another way to do it. You'll continue to see the overall number of people paying to read The Economist go up but you might see more of them being digital and less of them being print over time."
Meet the Author
---