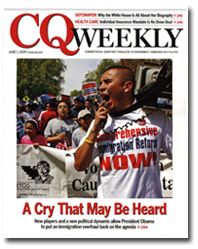 The Economist Group today said it has agreed to acquire Washington, D.C.-based Congressional Quarterly from Florida's Times Publishing Company. The deal is expected to close sometime during the third quarter.
Financial terms were not disclosed.
As part of the agreement, CQ will join the Economist Group's Roll Call and be managed under a newly formed unit: the CQ-Roll Call group. Congressional Quarterly has been on the block since January.
"The new CQ-Roll Call Group will have the largest and most experienced newsroom covering Washington and will be the leader in providing insight and analysis about the workings of Congress," Roll Call group managing director and executive vice president Laurie Battaglia said in a statement. "CQ and Roll Call are both highly regarded for unbiased, authoritative journalism and excellence."
The Economist Group said "the great majority of the CQ staff" will join the new CQ-Roll Call group. Among those departing is longtime CQ president and editor-in-chief Robert W. Merry.
Mediabistro's Fishbowl DC first reported the Economist Group's interest in acquiring CQ last month. At the time, an Economist Group spokesperson denied the report, calling it "speculation."
Congressional Quarterly was represented by the Jordan, Edmiston Group in the deal.