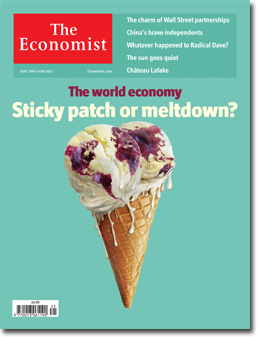 The Economist Group today reported overall revenue jumped 9 percent to 347 million pounds (or about $562.9 million) for the fiscal year ended March 31st, 2011. Meanwhile, operating profit was up 10 percent to 63 million pounds (or about $102.2 million).
Subscriptions remain the largest revenue stream for The Economist (at 170 million pounds or about $275.9 million) and worldwide circulation grew 4 percent to 1.5 million (magazine circulation in North American was up 2.5 percent to 833,667) for the July-December 2010 ABC time period.
"We strengthened the pay barrier in October and this contributed positively to our web- based subscription revenues," said Nigel Ludlow, managing director, Economist Online, UK. "Digital subscribers gain access to our online service as well as the editions we publish for the iPad and iPhone. The average weekly volume of digital customers who took out their subscription through The Economist online rose by 50 percent on the previous year."
However, The Economist also saw double-digit growth for advertising worldwide, with print up 14 percent (to about $171.9 million) and digital up 23 percent (to about $32.4 million). Ad pages in the U.S. edition of The Economist were up 4.2 percent in the first quarter of 2011 and up 3.8 percent in 2010, according to Publishers Information Bureau.
Sponsorship accounted for about $35.7 million of overall revenue, while about $47 million fell under "Other."
Revenue for the Economist Intelligence Unit–which invested heavily in marketing technology, edit and sales now focuses on direct-to-customer sales, rather than selling through intermediaries like libraries and consultancies–grew 6 percent to about $55.1 million.
In North America (where the company did about $259.2 million in total revenue in fiscal 2011), The Economist launched three new businesses over the past year, including an online ad network called the Ideas People Channel that combines 45 websites from different organizations; Economist Education, offering five e-learning courses targeted to executives in the U.S.; and an online fairs business that connects buyers and sellers at virtual events.
Fiscal 2011 represented the first full-year The Economist has owned the CQ-Roll Call Group, which was formed by it's the acquisition of Congressional Quarterly in in July 2009. While the company said subscription-based CQ and Capitol Advantage content and the workflow buinesses performed well, advocacy advertising and Roll Call margins were affected by tough competition and a slow legislative agenda.
"Looking forward, we see further growth in The Economist as digital reading increases, and in our established events and research businesses," said Paul Rossi, managing director and EVO the Americas.