The Economist: $1 Million Chicago Marketing Push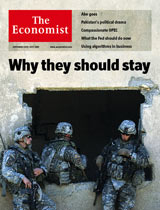 Phil Rosenthal at the Chicago Tribune reports that The Economist is beginning a $1 million marketing push to boost readership in Chicago. It's part of a multi-city campaign that also includes Washington, San Francisco, Boston, Denver, Baltimore and Austin, Texas. Chicago's slice of the pie? 25,000 of the 700,000 U.S. copies, reports Rosenthal.
Be ready to dig in, however. This is no magazine for the time-sensitive. Editor-in-chief John Micklethwait wants you to work for your new global perspective: "You turn on your television anywhere now, you get so much pap that what I think people want is substance. We're going to make them think. There's no great theme behind it. We just follow the things we think are interesting. … It is a part of the market that not everybody is in. But we've found the top of the market is bigger than other people thought."
The pap he refers to? "We have sadly undercovered Britney Spears," says Micklethwait.  
Meet the Author
---