Economic Stress Leads Runner's World to Fast Start at Newsstand

VP: 'In difficult economic times, people turn to exercise.'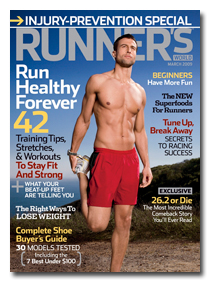 With positive newsstand stories few and far between during the second half of 2008, Rodale said yesterday that Runner's World delivered double-digit newsstand growth with its January 2009 issue.
This issue saw an increase of 13.3 percent in single copy sales versus January of last year, the company said.
"In difficult economic times, people turn to exercise, and more specifically running, as an outlet to manage stress and uncertainty," group VP Chris Lambiase explained in a release.
This could also be the cyclical, post-New Year's resolution-effect, when people renew their vows to "get fit" and join gyms and health clubs in the first few weeks or months after the ball drops, only to lose steam in March or April. During the second half of 2008, single copy sales for Runner's World slid about 4 percent.
 
Other Rodale titles, though, experienced significant circulation growth: Organic Gardening saw its total paid circ increase 35.3 percent in the second half; Women's Health saw a 31 percent increase in the same category.
Meet the Author
---