Eyeing October Relaunch, East West Offers Cover Contest

Magazine is at 20 percent of advertising goal.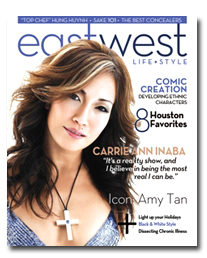 With plans to relaunch the print edition in October, multicultural magazine East West is offering a cover design contest in which readers can develop the cover for the October/November issue.
"We've typically done a glamour shot cover but Asian Americans are very interested in design and we have a new blog focused on designers, so why not do something that gets readers involved?" founder Anita Malik told FOLIO:.
The magazine is taking submissions of original artwork "interpreting the meaning of East West and the merging of cultures." The winning design will be featured on the cover and a profile of the designer will be featured in the issue.
Making the Pitch to Readers, Advertisers
After more than a year on hiatus, Malik said it has always been her goal to return to print. "We had some private investors step forward and they believe in print as much as I do," she said. "Particularly with this niche market, print will remain viable. It's a scary thing but for us it felt right."
The relaunch will have circulation of 20,000. East West archives remained online during the magazine's hiatus and Malik said readers continued to sign up. "We've been honest with readers and we're telling them 'we know you've been waiting' and trying to say we're human too with a small publication. People are kind of rooting for the magazine and when we were gone readers kept knocking on the door."
Malik said the content and mission will stay the same but she hopes to take advantage of online marketing, particularly through Twitter and Facebook. "We're really focusing on the marketing aspect. We never really had the funds for it (and don't really have it now) but we can benefit from social networking which wasn't as prominent as it was before," she added.
The advertiser pitch is harder. "That's the tricky one," said Malik. "I've come to the understanding that it's going to take a while for them to feel secure again with who we are and that we're not going to put out one issue and go away. We're seeking out new advertisers. A lot more companies are focused on multi-cultural marketing now that weren't a few years ago."
Malik said she is currently at 20 percent of the advertising goal for the October re-launch. "We've still got some time," she added. "I'm looking at that coming back in 2010. We wanted to get two issues out this year to get advertisers comfortable so they'll be ready when January/February rolls around. We're being realistic that this will take a while and be hard. Our goal is to go monthly for 2011."
The magazine also has to secure newsstand distribution again and will have controlled circulation in Los Angeles and Phoenix. "This will be a gradual buildup just like the advertising," Malik said. "We're starting over because we have to say, 'This is why you should carry us again.'"
Meet the Author
---