An Early Death Knell for User Generated Content

Publishers need to stop acting like they're front row at a Hannah Montana show.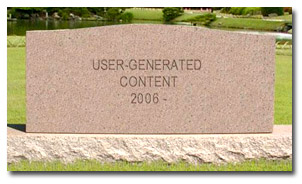 Every year there's a new savior for magazine publishers. Last year it was video. The funny thing is, while many more publishers are doing video today (and some are even making money on it), the buzz has faded a bit. That's because enough publishers are doing it that they now realize video does require investment, it does require staff, and it does not usher in a wave of new revenue for everyone who tries it.
This year, it's all about user generated content and social media. However, a Newsweek.com article says user generated content may have peaked before it's really started. The article cites the continued inaccuracies of Wikipedia and scammers running rampant on sites such as Craigslist as reconfirming the power of the "expert." While most publishers cite the 80-20 rule for user content (80 percent of the feedback is generated by 20 percent of the users), the Newsweek article says the ratio is even more skewed, with 1 percent of Wikipedia users accounting for 50 percent of the contributions.
Yes, I'm aware of the irony of a struggling "old media" brand calling out what could be the defining media trend of the next decade, as well as limiting its examples to the shortcomings of Wikipedia and Craigslist. However, the article does represent further evidence that publishing CEOs need to stop acting like the front row at a Hannah Montana concert when it comes to the idea of user generated content and apply more critical thinking to their approach. "Some of our forums have been great while others have been failures," said Alec Dann, general manager of Hanley Wood Magazines Online, at the ABM Digital Velocity conference this week. "You have to have the staff to do it right, and a lot of b-to-b companies don't want to do that."
Ain't that the truth. One CEO-level attendee at ABM Digital Velocity said, "We're all moving to a relationship with the audience. I don't mean to say that our friends in editorial will become extinct, but …"
Well, even if he doesn't mean that, plenty of other publishers (especially on the b-to-b side) are salivating at the prospect of eliminating that pesky editorial staff in favor of a few monitors of audience content.
Yes, social media and user-generated content are great opportunities (and I think they will be huge). Yes, editors need to redefine their approach and facilitate the two-way conversation. But user-generated content doesn't offer a quick fix or justify completely abandoning the backbone of your content strategy. User generated content is another tool for the toolbox.
Meet the Author
---