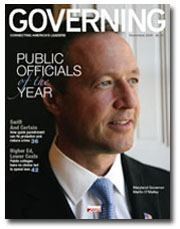 State and local government and education technology publisher e.Republic has agreed to purchase Governing magazine, along with its Web site and related events properties, from Florida's Times Publishing Group. The sale marks the completion of Times Publishing's sell-off of its Washington D.C.-based media properties.
The deal is expected to close sometime after Thanksgiving. Financial terms were not disclosed.
"We've been building up the IT space in terms of state and local
government and we feel that acquiring Governing will allow us to get
beyond the IT space," e.Republic COO Paul Harney told FOLIO:. He said Governing, which targets state and city government officials, will maintain its BPA-audited monthly circulation of 80,000.
Sacramento, California-based e.Republic also publishes Government Technology magazine. The company said Governing will stay in Washington D.C. but that some operations—including irculation, production, design and some editorial—will be combined with similar functions at e.Republic. The number of layoffs has not been determined, Harney said.
Times Publishing put the magazine on the block in July, one week after agreeing to sell Congressional Quarterly to The Economist Group. Late last year, the publisher sold the CQ Press books division to Sage Publications, saying it to direct its resources toward its Florida-based properties.
Times Publishing continues to publish its flagship St. Petersburg Times newspaper as well as Florida Trend magazine.
"It is a challenging M&A environment, but when great brands, like Governing, are sought out by strategic buyers, those deals have an opportunity to get done and get done quickly," Jordan, Edmiston Group managing director Michael Marchesano told FOLIO:. JEGI represented Times Publishing in the transaction.