E-Readers

Will 2009 be the year for electronic paper?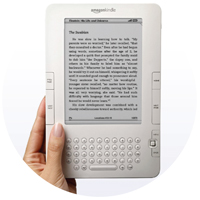 In his 2009 predictions to FOLIO:, Bob Sacks, president and publisher of Precision Media Group, said that this would be "the year that e-paper finally got the respect and understanding it deserves. The introduction in early 2009 of the Plastic Logic full sized, touch screen, e-reader will be the forerunner of this recognition."
While in the past e-readers like Amazon's Kindle and Sony's Reader have been primarily focused on book publishing, Hearst Corporation recently announced that it will debut a magazine e-reader later this year.
The first American magazine publisher to directly tap the digital reader market, Hearst is encouraging others to license technology so that they, too, can deliver digital content. Hearst is looking at a design better suited for reading magazines and newspapers than the book-focused Kindle. Those close to Hearst's e-reader project say that the device is light, with a large screen to make digital reading as comfortable as the print products, at 8.5×11 inches versus the Kindle's six-inch screen.
Mountain View, California-based Plastic Logic also has plans to launch a new electronic reading device in 2010, and through a partnership with digital vendor Zinio will provide magazine content.
It's been suggested that, if successful, an e-reader could someday replace print magazines and save of approximately 50 percent of the expense involved by cutting paper, printing and delivery costs. e-reader digital screens also save power by displaying changeable text and images.
On Esquire's blog, editor-in-chief David Granger wrote that he is hopeful that new electronic reading devices would save not only the suffering newspaper and magazine industries, but reintroduce people to the pleasures of reading in general: "As electronic readers improve, as they add graphics and design and, eventually, color, even more people will opt for the more sustained, contemplative experiences more often."
VITAL STATS: If successful, an e-reader could someday replace print magazines with savings of approximately 50 percent for paper, printing and delivery costs.
Meet the Author
---