Digital is the priority for most publishers, yet many executives have had to re-adjust their e-media forecasts just as they did with more traditional revenue streams such as print and events. Online ad spending in the U.S. dropped 5 percent to $5.5 billion in the first quarter of 2009 and 7 percent to $6.2 billion in the second quarter, according to market analyst IDC.
Digital revenue remains relatively small, despite massive percentage growth in recent years (and massive slumps in traditional revenue streams). "Those who have been aggressively pursuing digital will likely see it between 8 percent and 15 percent of the overall revenue mix," Deborah Esayian, co-president of Emmis Interactive told FOLIO: recently.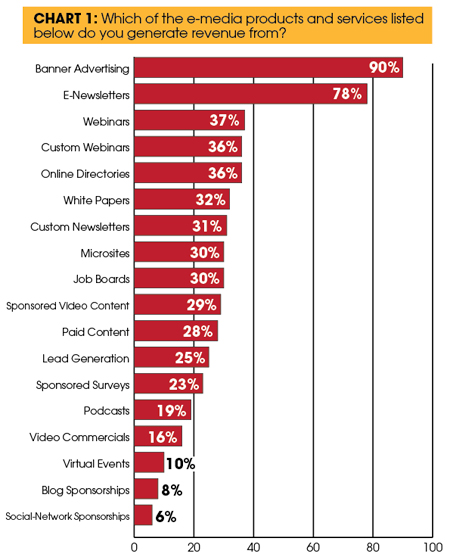 And while many publishers vow they will "never be dependent on print advertising again," just how well are they following through on that promise? FOLIO:'s 2009 E-Media Survey asks publishers where their biggest e-media successes (and set-backs) are coming from.
Big Growth in Last Five Years
While the industry may still be falling short of where it should be when it comes to digital media, the revenue ratio has shifted dramatically in the last five years. Eighty-seven percent of respondents say they generated less than 10 percent of their overall revenue from e-media in 2004. In 2009, just 50 percent of those same respondents say they see 10 percent or less of overall revenue from e-media [Chart 4].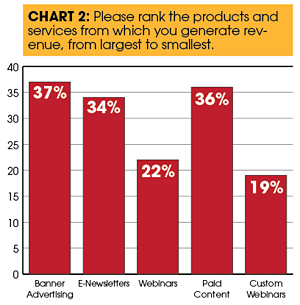 Eighteen percent of respondents say they generate 10 percent  to 15 percent of total revenue from e-media (compared to 6 percent in 2004), while 16 percent say they generate 15 percent to 20 percent of total revenue from e-media, compared to just 2 percent in 2004.
Meanwhile, 6 percent say they see between 20 percent and 30 percent from digital revenue, up from 1 percent in 2004, and a surprising 11 percent say they see more than 30 percent in digital revenue in 2009, compared to 4 percent in 2004.
Earlier this year, Advertising Age estimated 2008 e-media advertising revenue for 11 of the leading consumer magazine publishers. Martha Stewart Living Omnimedia came out on top, with digital estimated at $14 million, or 12 percent of total advertising revenue. Time Inc. and Hachette tied for second with e-media estimated at 10 percent of total revenue.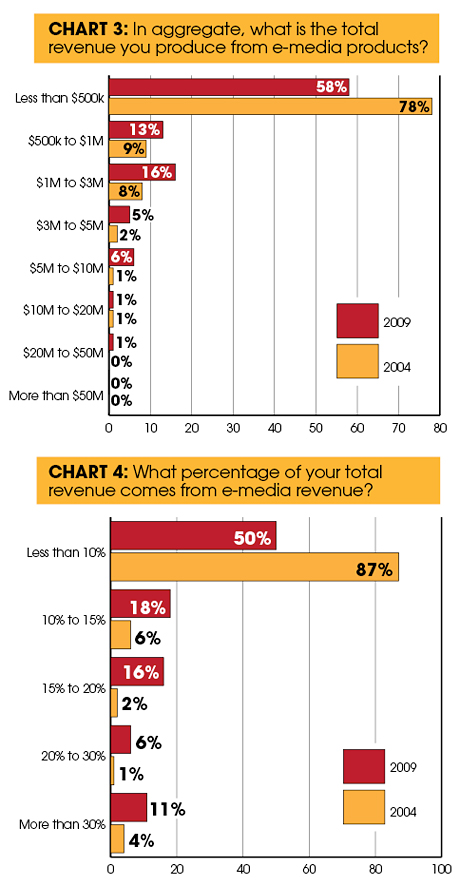 However, digital revenue for giants such as American Express Publishing and Condé Nast was estimated at 4 percent and 3 percent of total revenue, respectively, while Bauer was estimated to have zero digital revenue in 2008.
"Saying we're going to migrate consumers one-to-one, print to online, is naive," Hearst digital manager Chuck Cordray told FOLIO:. "Customers will choose what they want to do. As publishers, we have to decide if we are going to compete in that media and succeed. Whatever happens in the traditional magazine business, we have to compete in digital as a business."
Reader's Digest is attempting to change its perception as a legacy print brand by making SEO, social media and newsletter initiatives a priority. "That's empowering our growth rather than spending $100 million on a big ad campaign," says acting general manager Jonathon Hills.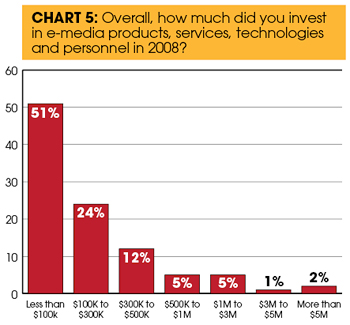 Next up is transforming the Reader's Digest brand into a multi-platform experience. "We're focusing on video," says Hills. "Much of our content is perfectly suited for it, and it's highly monetizeable. We'll see action with mobile this year on the iPhone."
 
Smaller Publishers See Big Gains
While smaller publishers (those generating $5 million or less per year in total revenue) have historically lagged behind larger publishers when it comes to e-media as an overall percentage, they're catching up and in many cases surpassing larger publishers (of course, when you're smaller overall, it's easier to change the revenue ratio).
As a publisher of five titles tied closely to the new home market in Orange County, California, Churm Media saw 20 percent of its revenue disappear over an 18-month period. As part of its response, Churm devoted $350,000 to Web development, including revamping Web sites and developing an aggressive newsletter strategy. In 2009, Churm expects 10 percent of its total revenue to come from digital. CEO Steve Churm says the company could be at 22 percent in 2010. "A year ago we were at 1 percent," he says.
Meanwhile, Phoenix Media Network says its online revenue grew by 25 percent last year. Atlantic Media says digital revenue is growing 55 percent in 2009. And while Incisive Media says print makes up 70 percent of its business with events around 15 percent to 20 percent and online at 10 percent to 15 percent, the potential for digital growth is greater, particularly for data and paid content. "We've seen the end-user part of the business (data) and even subscriptions grow faster than the advertiser portion," says CEO William Pollak.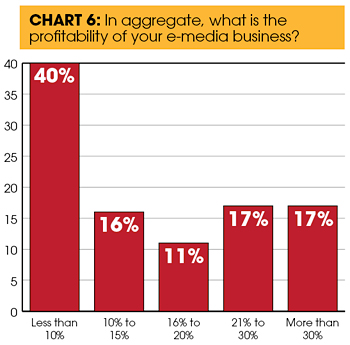 As part of its Chapter 11 filing in August, Cygnus Business Media revealed that it expects interactive revenue to drop 14 percent to $8.6 million in 2009. By 2013, Cygnus forecasts overall revenue will be $75.5 million, with print accounting for 49.6 percent of total revenue, or $37.4 million. Events will account for 26 percent (compared to 15.4 percent of revenue in 2009), while interactive is forecast at $18.4 million or 24.4 percent of total revenue (up from 12.5 percent in 2009). In five years, print will remain the largest revenue stream accounting for nearly half of Cygnus' total revenue.
Banners Reign in Revenue, Not Profit
While the buzz around mobile and social media dominates much of the digital conversation, banner advertising and e-newsletters remain the most prominent e-media revenue streams with 90 percent and 78 percent of survey respondents saying they derive revenue from these two sources [Chart 1]. Custom Webinars and online directories tied as the third most prominent products, offered by 36 percent of respondents.
However, several highly touted up-and-coming revenue streams remain fairly rare for magazine publishers. Only a quarter of survey respondents say they are currently seeing revenue from lead generation, while slightly more (28 percent) say they are seeing revenue from paid content (however, among those respondents who are offering paid content, 50 percent are seeing profit margins of 30 percent or more). Ten percent of respondents say they are seeing revenue from virtual events while just 6 percent are managing to drive revenue through social network sponsorships.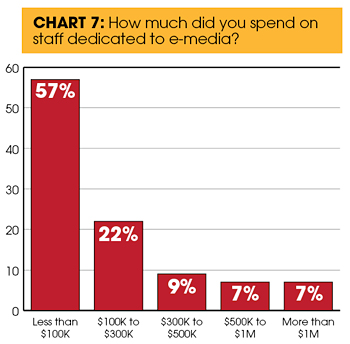 When it comes to the largest and smallest revenue streams [Chart 2], banner advertising remains on top, with 37 percent of respondents saying that's their largest revenue stream. However, banner advertising was also cited as the least profitable e-media revenue stream, with 32 percent of respondents saying they see profit margins of less than 10 percent from banners.
E-newsletters (34 percent), Webinars (22 percent) and custom Webinars (19 percent) were also top earners.
That seems to mirror what online-only publishers are doing as well. Eighty-one percent of traditional publishers say the primary revenue model for their online-only competition is advertising, followed by lead generation and subscriptions. According to a FOLIO: survey earlier this year, 74 percent of publishers said they launched at least one online-only product within the last two years.
Meanwhile, companies such as GlobalSpec represent what publishers could be facing (and how they may want to structure themselves online). Originally positioned as a vertical search engine for the engineering market, GlobalSpec has evolved into a multi-format, multi-product model that includes databases and e-mail newsletters with more than $50 million in estimated revenue. "Our typical customer will spend between $10,000 and upwards of $1 million," GlobalSpec CEO Jeff Killeen told FOLIO: recently. "We have many hundred thousand dollar-plus relationships."
VIN (Veterinary Information Network) is another online-only publisher that is neither sponsorship nor advertising-based; it's membership based, with 42,000 members paying $55 per month.
Hard Revenue Numbers
In 2008, FOLIO: surveyed readers on how much money they made from online media. At the time, 65 percent of publishers said they generated less than $500,000 in e-media revenue. In 2009, that number improved slightly, with 58 percent of respondents saying they generate less than $500,000 from e-media [Chart 3].
Still, in an industry used to individual magazines and events generating more than that, e-media is still a very small part of the overall plan. Thirteen percent of respondents say they expect to generate between $500,000 and $1 million in 2009, up from 10 percent in 2008. Sixteen percent say they generate between $1 million and $3 million (up from 9 percent last year) and 13 percent say they do $3 million and up. (No respondents say they are generating more than $50 million per year in digital revenue, although 1 percent says they generate between $20 million and $50 million).
When compared to the last five years, the outlook indicates steady improvement. Seventy-eight percent of respondents report they generated less than $500,000 in e-media revenue in 2004. Nine percent generated $500,000 to $1 million, while the percentage of respondents generating $1 million to $3 million in revenue doubled over the last five years, from 8 percent to 16 percent.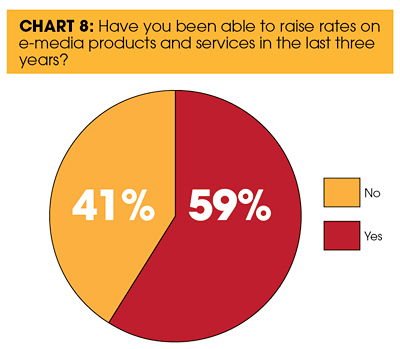 Most See Profit Margins of 10 Percent
Despite favorable comparisons to the profitability of print, the majority of respondents—40 percent—said their e-media business has a profit margin of 10 percent or less [Chart 6]. Thirty-four percent say they have a profit margin of 20 percent or more, while 16 percent see profitability of 10 percent to 15 percent. Eleven percent see profitability of 16 percent to 20 percent.
 
Digital Investment: Most Under $100K
While publishers often cite the lower costs and higher margins associated with digital media versus print, building a digital business requires significant investment in hardware, services and personnel. According to FOLIO:'s 2009 B-to-B CEO survey, e-media accounted for the largest operating expense increase among b-to-b publishers in 2008, up 6 percent.
Still, 51 percent of respondents to FOLIO:'s E-media Survey say they invested less than $100,000 in e-media products, services or personnel in 2008 [Chart 5]. Twenty-four percent say they invested between $100,000 and $300,000, while 12 percent say they invested $300,000 to $500,000.
Five percent invested $500,000 to $1 million and another 5 percent invested $1 million to $3 million. One percent invested $1 million to $5 million, while 2 percent invested more than $5 million.
Between open source solutions and existing staff taking on new responsibilities, many publishers are finding they don't have to break the bank. In August 2006, the Web site for Reni Publishing's Florida Real Estate Journal averaged 750 monthly unique visitors but after some basic tweaks and a $1,000 software investment, Reni had 50,000 unique visitors by the end of 2007.
Online startup Knitters Review, which sees an average of 2.8 million page views and revenue in the low six figures, says its biggest expense is hosting a forum of 70,000 members, which requires a lot of bandwidth and storage—and costs about 10 percent of Knitters Review's total revenue.
On average, the majority of respondents (20 percent) spent between $10,000 and $24,999 on new technology last year (14 percent spent $100,000-$249,000, while just 2 percent spent $1 million or more).
"We were in a unique position in that our company wanted to do it right and as a startup told me not to worry about revenue the first year; worry about building the product," says Jeff Higley, editorial director of digital media for HotelNewsNow.com. "For the actual costs of building the site itself, plus the back-end stuff, I would say the startup alone was about 70 percent of what it would have been for a print product from a start-up perspective."
Staffing: As Silos Break Down, Everyone Works On Digital
In recent years, publishers have found that online staffers could command higher salaries than their equivalent counterparts in print. That's starting to level out as digital skills become more commonplace (and as the separation between "print" and "digital" staffs crumble and one staff is responsible for everything).
According to the FOLIO: survey, 57 percent of respondents spent less than $100,000 on staff dedicated to e-media (indicating that while many publishers may have a dedicated e-media or newsletter editor, the entire staff is generating content for the Web). Twenty-two percent say they spent between $100,000 to $300,000 on a digital media staff, while 9 percent spent $300,000 to $500,000.
Many publishers have struggled with getting existing staffers to sell digital, since the commissions are typically smaller than print. However, 74 percent of respondents say their staff sells both print and digital, compared to 16 percent that have a dedicated e-media sales staff and 10 percent that outsource their digital sales.
ROI Dominates Reasons for Digital; Interaction with Clients Lags
According to the FOLIO: survey, 75 percent of e-media advertisers are existing accounts, while 25 percent are new business. Many have worried that online pricing started so low that publishers would have a hard time raising rates. However, 59 percent of respondents say that they have been able to raise the rates on e-media products.
When it comes to why they're buying online media, the majority—52 percent—of publishers say their clients cite ROI/measurability and deeper business intelligence as the top reasons. Twenty-five percent of publishers say their clients are turning to e-media for lead generation, while 23 percent say it's because of an accessible price point. Interestingly, just 5 percent of respondents say their advertisers cite the ability to interact with their audience via digital media.