E-Media Pulls Even with Newsstand Sales For Consumer Mags

Print is second-fastest growing revenue stream for consumer pubs in '08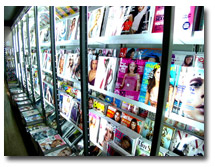 E-media
as a percentage of overall revenue is nearly equal to newsstand sales
for consumer publishers this year, according to the 2008 FOLIO:
Consumer Magazine CEO Survey.
On average, consumer publishers
expect e-media revenue to generate 8.4 percent of total revenue,
compared to 8.6 percent for newsstand sales (publishers generating less
than $10 million per year think e-media will account for 9.1 percent of
total revenue compared to 8.3 percent for the newsstand, while
publishers over the $10 million mark expect to see 6.4 percent of
revenues from e-media and 8.9 percent from newsstand sales).

Print Advertising is Second Fastest Growing Revenue Stream
And
while it's no surprise that both large and small consumer publishers
cite e-media as the fastest growing part of their business, on average
they also say print advertising is the second fastest growing revenue
stream.
However, smaller publishers (<$10 million) are
definitely more print focused. Forty percent of smaller publishers say
print advertising will be their fastest growing revenue stream in 2008,
compared to just 24 percent of larger publishers. Larger publishers
cited events (31 percent) as their second fastest growing revenue
stream after e-media.
The full 2008 FOLIO: Consumer Magazine CEO Survey will appear in FOLIO:'s October issue.
Fastest Growing Parts of Business in 2008
E-Media: 48%
Print Advertising: 36%
Paid Subscriptions: 26%
Events: 19%
Custom publishing: 18%
Newsstand sales: 13%
Data/market information sales: 10%
Reprint sales: 1%
Source: FOLIO:, Readex Research. Respondents could name more than one category.
Meet the Author
---