In E-Commerce Push, People StyleWatch Teams With Joyus

16-week partnership leads up to holiday rush.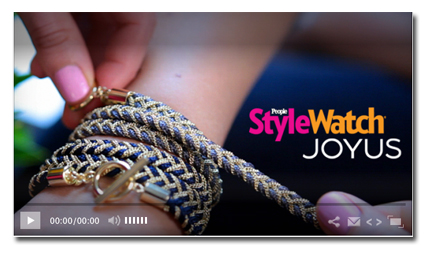 Time Inc.'s PEOPLEStyleWatch.com is jumping stilettos first into e-commerce through a partnership with the video-shopping platform Joyus. People.com and Joyus.com are sharing revenue in this partnership, though the companies are not disclosing the exact details of the split.
The 16-part, co-branded video series, which launched Monday, leads right into the holiday season, says PEOPLE's digital team, and helps put the brand in the minds of consumers as they plan their gift shopping. PEOPLEStyleWatch senior editor Zoe Ruderman will host the 16-week video shopping series and help to identify the items promoted. Links within articles where the videos are hosted lead consumers directly to webpages to buy the product they are watching.
"(Viewers) can get a feel for the fit, look and style of the products," says Janice Morris, managing editor, PEOPLE Digital. "That's the kind of information that we're not able to lend readers from a flat page. When you have a visual and see it being wrapped around a wrist and show someone how it fits, it brings the product to life."
These selected, co-branded videos showcase retail items chosen by the editorial team that run for $100 or less. This partnership, says PEOPLE, helps the brand to demonstrate an authoritative voice in the style vertical, while also testing a new type of e-commerce model.

"The ability to use a video platform to tell the story was what really interested us," says Liz White, general manager of PEOPLE Digital. "We're able to tell a story about the product in a unique way. Because of the size of our audience, it's something that none of our competitors can even come close to in terms of scale—the combination of a great technology platform, a strong editorial voice and scale," sets this initiative apart from others, says White.
PEOPLE StyleWatch is also encouraging its readers to Tweet purchased products and images of readers wearing the items. The relatively low price point, says PEOPLE, was designed to reach the broadest possible audience.
"What gets us excited about this is these 16 videos gives us a platform to experiment with video commerce," adds White. "We've been in the e-commerce space for a number of years now, directing readers to retail off of our photos and articles, but this is the first time we're doing it with video. Both tablet and mobile also present a tremendous opportunity—PEOPLE.com on the tablet has over 2.4 million uniques alone—as you look to the holiday season, you'll see more integration with other platforms rolling out."
Meet the Author
---