As Dykstra and Doubledown Wage War, Overtime Watches From the Sidelines

OT founder Ryan McNeil—hampered by his own legal troubles—monitoring case.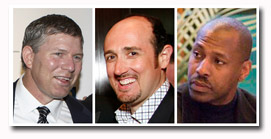 Dykstra, Lane, McNeil
As the bitter legal dispute between Lenny Dykstra and Doubledown Media plays out in a federal court, a publishing company with its own legal troubles may eventually insert itself into the narrative.
Dykstra, the former Major League Baseball outfielder and publisher of the Players Club, a magazine for professional athletes, filed suit late last month against Doubledown—publisher of high end titles including Trader Monthly and the company he hired to produce the magazine—for control of the Players Club's yet-to-be-published second issue. Doubledown quickly filed a counterclaim, alleging Dykstra owes the company over $500,000.
Watching this case with a keen interest is Maven Media Group, publisher of its own financially-challenged magazine for professional athletes, the 35,000-circ Overtime.
"We're keeping our eyes and ears open," Overtime founder and publisher Ryan McNeil told FOLIO: this week.
That's because in November 2006, McNeil, an 11-year-veteran of the National Football League, met with Doubledown publisher Randall Lane and AdMedia Partners to discuss a possible partnership.
"We got to the altar," McNeil said, but nothing happened. However, McNeil is concerned about how the "highly strategic information" disclosed in that meeting was used by Doubledown.
"We had one meeting," Lane told FOLIO:. "There was no deal, no discussion, no interest. Period."
Instead, Doubledown struck a deal with Dykstra last July to act as a custom publisher for the launch of the 20,000-circulation Players Club. According to documents filed in the U.S. Southern District Court of New York, Doubledown says the relationship "began with much optimism" but "rapidly soured in 2008."
"Over a relatively short period of time," the complaint states, "Dykstra proved himself to be a mercurial, difficult client whose many idiosyncrasies and demanding personality imposed substantial costs on the planned publications and created excessive burdens for Doubledown. At the same time, Dykstra began shirking his financial obligations to Doubledown beginning in late 2007 and continuing into 2008, repeatedly driving up expenses and increasing the overall costs of publications at a time when he … lacked the cash to pay for such expenses."
Dykstra has since partnered with American Express Publishing to handle production.
A representative for Dykstra did not return multiple requests for comment. Lane declined to comment on either of the pending suits.
Overtime Loss
As bad as things allegedly were with Dykstra, things could've been worse had Doubledown gone with Overtime.
The magazine, launched in 2004, has had its own lion's share of problems, both legal and financial.
Overtime is currently involved in a dispute with Fox Associates, a company that McNeil retained in 2006 to handle its advertising sales. McNeil says the case should be completed "within the next 30 days."
In January, a mediabistro.com report claimed that Overtime owed "considerably more than $100,000" to former freelancers, writers and vendors. In June 2007, Mark Wright, the magazine's former executive editor, was awarded $10,000 in back pay McNeil owed him. Another former freelancer filed a lawsuit against McNeil over back pay in Fulton County, Georgia last fall, but the sheriff's office "returned the subpoena because it could not locate McNeil to serve him after several attempts."
Overtime published its January/February issue in February, but the bimonthly has yet to publish an issue since. (McNeil claims the magazine is "late" but refused to call the delay a "hiatus.") Meanwhile, Jeff Louderbeck, who was appointed editor in December after its editorial director quit over unpaid bills, left the magazine several weeks ago, citing frustration over payments, a source close to the magazine says.
Tough to Prove
Whatever case McNeil has against Doubledown, if and when he does bring one, he'll likely have trouble proving the information exchanged in that 2006 meeting was terribly valuable, or wasn't available elsewhere. Moves, a quarterly founded in 2004, targets the same player audience. Street & Smith's Pro, a magazine that lasted just five issues in the late 1990s, was launched with the same concept.
McNeil said that once the arbitration case with Fox is settled, Overtime will announce a partnership "with a big-time publisher."
You can bet it won't be Doubledown.
Meet the Author
---