As print continues to decline and digital often struggles to live up to the hype, events are offering higher profits than print and, for many publishers, far higher revenues than digital. Luxury consumer magazine and media company Dwell, however, is leveraging all of these different groups and treating each as equally valuable mediums for its business model.
"We spent a lot of time looking at the events space for Dwell," says Michela O'Connor Abrams, president of Dwell Media. "The driving business mission for the company is bringing modern design to anyone—anywhere, anytime, anyplace and in any form. Because of that, we really never, in a way, were a traditional publisher."
A Hybrid Trade Event
In 2005, O'Connor Abrams launched Dwell on Design, now one of the largest design events in the U.S., hosting about 30,000 attendees in 2012.
The event is not just for design professionals, but enthusiasts as well, which makes this event "the antithesis of a typical American tradeshow," as O'Connor Abrams puts it, an aspect of the company's media portfolio that establishes touch points with not only vendors and exhibitors, but its core reader base as well.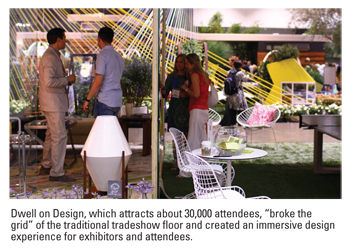 "When it comes to the event space, I was struck by the fact that tradeshows in this country are these very pedantic events with aisles on a grid that are totally unimagined," she says. "We broke the grid, if you will. When you walk into the convention center in Los Angeles for Dwell on Design, you see exhibition and experience centers, and not these aisles that you need to walk up and down on."
For Dwell on Design, five full-size homes are constructed on about 20,000 square feet of outdoor exhibit space, with about 10,000 plants covering the area, transforming the space into a neighborhood.
"It's an immersive design experience so there's nothing tradeshow about it," she says.
The anti-trade fair concept, while intriguing on the surface, does raise some questions: How do sponsorships work? If attendees are mainly enthusiasts, why does it make sense to exhibit at all? And, how does this make sense for the publisher's business?
About 50 percent of the attendees are trade professionals, and the first day of the three-day event is for that demographic. Yet, O'Connor Abrams says many don't leave after the trade day. During the event's research phase to determine scale and size, exhibitors, she says, asked if the right people would be on site.
"Our research shows they stay for the whole weekend and that it comes out to be 50-50 trade professionals and consumers," she says. "We find that the people we attract are not only design-savvy consumers. It's also not uncommon to see one of these enthusiasts walking with their blueprints for their remodel, new home or second home with their architect or designer by their side to meet with designers, vendors and suppliers. They are going ahead and purchasing, and our smaller exhibitors have a retail cash-and-carry license—it's not uncommon to see someone walking out of the show with $2,000 worth of chairs for their kitchen."