Dwell Media Debuts Online Store

Dwell Store to offer shoppers careful curation, not free-for-all commerce.
Dwell Media launched a new online store that will offer shoppers access to hundreds of designers and thousands of products, including exclusive items developed just for the Dwell Store. However, unlike free-for-all commerce sites that cater to fulfilling everyone's every need, the Dwell Store offers a tightly curated list of featured items.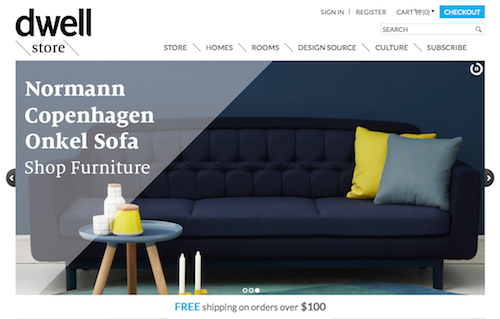 "The store is very simple," says Dwell President Michela O'Connor Abrams. "This is not trying to be a Fab or an Amazon or anybody else whose raison d'être is really bringing every single product possible to everybody. That's a different model."
The heavily curated model Dwell employs will help corner the design-related online store market into what O'Connor Abrams calls "a Dwell collection." Not Dwell-named products, but the items Dwell's curation team has decided readers should see, all from the company's partnered retail stores and artisan shops.
"Our belief was always that contextualized commerce was going to win the day," contends O'Connor Abrams. "It didn't seem like that was the case in the beginning when flash sales were the darling of the recession. But now, the economy is recovering and flash sales are going away."
Post-recession, the flash sale, or deal-of-the-day ecommerce business model, took flight as it helped boost sales for fledgling companies and expand their potential return-customer pool. However, in recent years, the longevity of a financial foundation that volatile has become a serious concern for online retailers.
"When you see Fab pivoting off from it and One King's Lane giving smaller discounts and Gilt not doing what they said they would do with discounts, it's clear that context and the content that brings an engaged audience together is what's going to happen [now]," O'Connor Abrams says.
The Dwell Store inventory will include products at all affordability price points. Featured designers include Kartell, Flos, Rich Brilliant Willing, Bouroullec Brothers, Egg Collective, Grain Design, Herman Miller, Marimekko, Maharam, Yield Design Co., Braun and Applicata.

The Dwell Store is not an affiliate revenue model. O'Connor Abrams maintains that 40 percent of products are kept in a warehouse, with the others accessible via a drop/ship model.
"We are intentionally keeping it [at] a few thousand products and not tens of thousands of products," she says. "We are not at all trying to compete with or subsume anybody that we already partner with. They all have a place that is not duplicated by the Dwell Store."
The Dwell Store will continue to develop over the next few months with a fully contextualized site set for finalization before the end of Q1 in 2014. As for Dwell Magazine, O'Connor Abrams maintains that Dwell's content and commerce teams remain separated, but that there will be at least one new shoppable magazine published in 2014 and that the Dwell Store will be advertised within Dwell Magazine.
Meet the Author
---