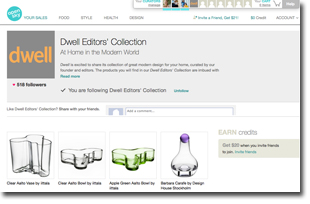 "We believe contextualized commerce is the future," says Michela O'Connor Abrams, president and publisher of Dwell. "We believe everybody, no matter from which point they're starting, now is going in that direction."
Today, Dwell and e-commerce site OpenSky debut the Dwell Editors' Collection; a 15-item holiday gift guide anchors the effort. The partnership took root a month ago when OpenSky's New York Talent staff Mary Ann Naples contacted O'Connor Abrams. Since then, Dwell's team (including editors, creative staff, marketers, etc.) worked laboriously on contextualizing the voice for its storefront on Opensky.com.
For the past three years, finding a fitting e-commerce solution has been top of mind at Dwell. "Studying for the last couple of years what we should, and how we should do it, led us to the belief that we needed to have our own branded store that was contextualized," says O'Connor Abrams. "By that, I mean one not only we curate, but one that has our own voice."
OpenSky's product portfolio is selected by a group of of roughly 100 celebrities, chefs, designers and other culturally influential personalities. Dwell Media is the first media company to enter into a partnership with the e-commerce service. According to OpenSky's website, the service reaches "700,000+ people with over 3.5 million connections".
OpenSky provided the storefront template, which Dwell customized with fonts, colors, etc. "We chose for this gift guide: everything had to be under $150; we told them what brands are authentic to Dwell, and had ongoing discussions with their buying team in order to properly represent what Dwell e-commerce should be," says O'Connor Abrams. In addition to living on Opensky.com, the Dwell Editors' Collection will be linked to Dwell's website and integrated into the print magazine.
According to a Dwell representative, "Some [products] happen to be from Dwell advertisers, some are not."
As for revenue split between retailer, Dwell and OpenSky, "There are a myriad of permutations," says O'Connor Abrams. Point of entry and purchase are main factors in rev distribution.
The Dwell Editors' Collection launch coincides with the opening of an OpenSky pop-up store in Soho, New York. 3 to 4 items from the gift guide will be available for purchase at the bricks-and-mortar location.
Dwell finds itself in company with publishers like Hearst, New York Magazine, VIVMag, F+W Media, American Express Publishing, Moon Tide Media and many others in the e-commerce push. Like David Carey, president of Hearst Magazines, said earlier this year, "…I think what you're going to find is content companies are going to move into commerce. It's a service to the reader that they can just click…and be able to buy it."