Dwell Announces Redesign

To feature smaller trim size, recycled paper.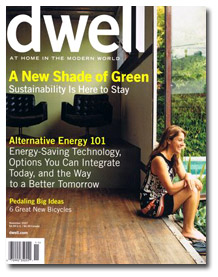 Leading shelter title Dwell has announced a major redesign of its print magazine set to debut with the February 2008 issue.
Graphically, the magazine has been "redesigned to its core," the company says, and will feature a new cover design with a larger logo, full bleed imagery and new fonts. The magazine will be printed on recycled content paper with a larger percentage of soy-based inks. Readers will also notice a smaller trim width-the magazine is scaling back from 9 inches to 8.375 inches.
Changes to the editorial content will include new departments such as "Theme Attic," "Process" and an updated "Off the Grid," which will feature a deeper look into the systems that drive sustainable homes.
"Moving to recycled paper is the key to our redesign but taking advantage of the fact that sustainability has always been something Dwell has focused on, we are moving that dialogue forward which is essential to our growth as a publication," Dwell publisher and president Michela O'Connor Abrams said in a statement.
Meet the Author
---