Dow Jones Shutters Far Eastern Economic Review

Publisher promises expanded coverage of Asia in remaining properties.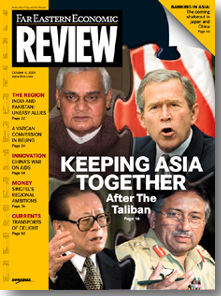 Dow Jones said it will cease publishing Far Eastern Economic Review, its Asian news magazine, effective with the December issue.
"Unfortunately, despite several attempts at invigorating the brand, the Review's continued losses in advertising revenue and readers are now unsustainable," the company wrote in a statement.
As a result, Dow Jones said it will feature more content from Asia within its remaining properties, including the Wall Street Journal. Dow Jones will offer current Review subscribers a one-year subscription to asia.wsj.com. Depending on the region, a subscription of the Review cost between $94 and $158. An annual subscription to asia.WSJ.com costs $104.
Hugo Restall, the Review's editor since October 2004—two months before the magazine switched to a monthly frequency—will continue to serve on the WSJ editorial board.
Far Eastern Economic Review was launched in 1946 by Eric Halpern, an immigrant from Vienna, and was based in Hong Kong.
Meet the Author
---