Doubles, Anyone? Men's Fitness Uses Nadal Photo from New York Cover Shoot for its Own

Two very different magazines share almost the exact same cover photo.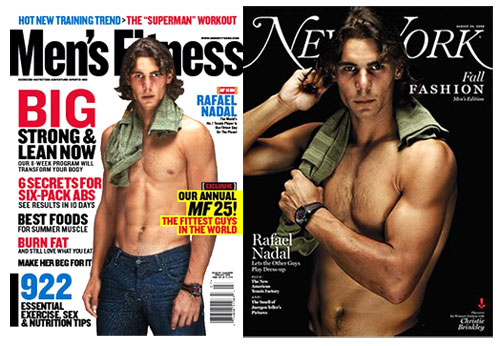 When my June/July issue of Men's Fitness landed in my mailbox, tennis star Rafael Nadal's shirtless torso looked familiar—and it wasn't because I was looking at my own torso in the mirror, that's for damn sure. Had it not been for the green Nike polo shirt around his neck, I would've never remembered that a similar photo was used on the cover of the 2008 fall fashion issue of New York magazine.
The photos, taken by Nigel Parry, are fantastic, and work remarkably well for both magazines. The New York cover shows Nadal at his pouty and petulant best, giving the camera—and thus, the reader—a wicked come hither look that likely sent the magazine flying off the racks across the country (especially in Chelsea and West Hollywood).
The Men's Fitness cover photo—from the same shoot but used inside the New York issue in black and white—is also strikingly appropriate. Here, Nadal has the same intense gaze, but unlike the New York cover, this photo highlights the tennis pro's physique, especially his six pack. No doubt this is a totally appropriate photo for the article it was touting—MF's 25 Fittest Guys in the World. (Not surprisingly, Nadal was no. 1.)
Still, it's a little odd to see a big national magazine like Men's Fitness reuse an image for a cover.
When I asked Men's Fitness editor-in-chief Roy S. Johnson about this choice, this was his response: "When we selected Rafael Nadal as our Fittest Guy in the World, he was excited about the honor but unable to offer time for a photo shoot," Johnson explained to me in an email. "He told us of the shoot he did for New York magazine and directed us to the photographer. We liked the shoot (and we researched others) because it was the only one we found in which he was shirtless, which is occasionally how we show our cover subjects. Of course we were aware that the shoot had been originally done for New York, so we made sure not to select the exact same shot they used. Finally, as widely read as New York magazine is, our guess is that few of our readers had seen it."
Johnson added that he had not received a single e-mail mentioning the Men's Fitness cover's similarity to the New York cover … other than mine. Leave it to a magazine editor to be a thorn in the side of another magazine editor!
Introducing the … Bloomberg Markets Cover Curse?
Of course, Nadal—the world's no. 1-ranked tennis player—would figure to be a popular cover choice for those magazines that cover tennis, fitness and/or the four cities in which the Grand Slams take place (hence, New York's pre-U.S. Open cover last year). Based on a quick scan of the local newsstand, Nadal appears on at least four covers, including Men's Fitness, Men's Journal and this weekend's ill-timed New York Times Magazine.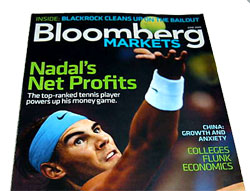 But, given Nadal's recent collapse at the French Open (he lost in the fourth round to a relative unknown, ending his streak of consecutive French Open wins at four) and his withdrawal from Wimbledon on Friday (sorry, New York Times Magazine!) it would seem that Bloomberg Markets' odd decision to put the Majorcan matador on its June cover backfired just a bit.
Meet the Author
---