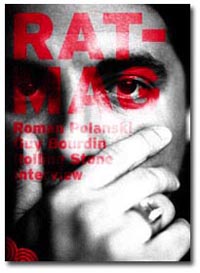 Roughly nine months after Doubledown Media shut down its operations, company co-founder Magnus Greaves is getting ready to launch his next magazine project. MYMAG, a kind of fanzine version of Time Inc.'s Mine, will consist of single issues created by celebrity "tastemakers" for distribution to their fan base, he said.
"These [celebrities] are people with big followings, and fans want to know what these people are thinking," Greaves told FOLIO:. "We're not necessarily trying to get the most famous person, but those who have something interesting to say, unique in their own particular field and have an existing connection with fans."
The first one-offs to launch—by film and music-video director Brett Ratner [above], Dim Mak Records president DJ Steve Aoki and model/actress Olivia Munn—will consist of 80 pages of pre-published content that's selected by the "celebrities" from titles like Interview, Nylon, V and Flaunt. The celebrity chooses content they think is influential or educational, Greaves said.
The final 20 pages (issues will total 100 pages) will be devoted to celebrity-created content like never-before-seen photos or narrative, he said. Each issue will be sold on MYMAG.com for $10.
"To market a traditional magazine, you need to find an audience," said Greaves. "What MYMAG is doing is finding the fan base of our celebrities on Twitter and other social networks, so the marketing side of this is straightforward. We are also working with various publications participating to do some outreach."
Greaves said he expects to print more than 30,000 copies of the Munn issue and fewer than 10,000 copies each of the Aoki and Ratner issues. People interested in purchasing copies can order them in advance on the MYMAG Web site.
The initial revenue model, Greaves said, is selling subscriptions and attracting one a single sponsor per issue. Diesel is the sponsor for the Aoki issue. Bing is the sponsor for the Munn and Ratner issues.
Greaves said MYMAG won't be paying publishers royalties for their content, but have received a "great response" based on the direct celebrity endorsement and audience development factor.





While Greaves declined to comment on the amount he has invested in the project so far, he said he has been working on the MYMAG concept for more than three years. He said he expects MYMAG to be "a very profitable business in the short term." His future plans include celebrity one-offs by a broader range of celebrities, including athletes and academics, based on the philosophy that each person comes with their own audience, he said.