Doubledown Founders May Still See Those 'Nice Houses' But It's Unlikely Others Will

Hard times hit former darling of financial publishing.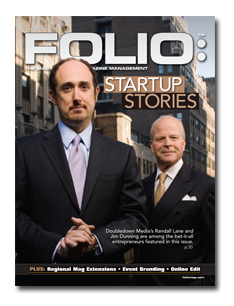 Two years ago, Doubledown co-founders Randall Lane and Jim Dunning posed for the cover of FOLIO:.
While Doubledown published two lush (and at the time, red-hot) business lifestyle magazines for the financial world, its offices weren't in the financial district but in the far corners of the Garment District, where the main entrance for most buildings is a loading dock (although to be fair, most New York-based publishers seem to reside in buildings with beautiful lobbies and ghastly offices).    
At the time, Dunning said: "We're not going for the trappings. We're not going to have fancy offices. We're going to have fancy houses at the end of this."
Of course, that was two years ago, when Doubledown was an upstart, innovative company with killer events (such as the Wall Street Boxing Charity Championship, in which usually deskbound traders get to square off in the ring) and a real "roll-up-the-sleeves" ethos.  
Today, the market has taken a toll on Doubledown, with the New York Post reporting recently that the publisher is on the block (in a story from a former Doubledown reporter), layoffs (including president of sales Richard Skeen and general manager Edward Padin) and salary cuts for the survivors.
Dunning (one of the wealthiest people in the publishing industry) and co-founder Randall Lane can probably still look forward to those nice houses, even if it's likely Doubledown will sell for far less than what they originally imaged two years ago. But here's hoping the rest of the employees salvage something too.
Meet the Author
---