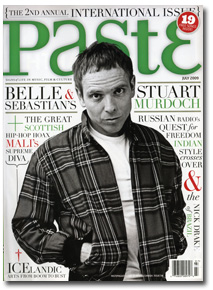 In the two months since it launched the "Save Paste" campaign, ailing Decatur, Georgia-based music magazine Paste has raised more than $250,000 from approximately 10,000 donations—enough to keep the magazine in business.
"We've published two issues since the campaign began, sent a third to the printer and are seeing advertising pick up for the fall and expect to be around for a long time," publisher Nick Purdy wrote in an e-mail to FOLIO:. The campaign officially closes this month, he said.
In May, Paste said it was cash-strapped and in crisis as ad dollars declined dramatically. Through the first week, the campaign raised $166,000. At the time, Paste said it needed an additional $134,000—or a total $300,000—to "take care of bills that spiraled up during the ad slump."
Paste said it implemented several cost-cutting measures, including a 20 percent pay cut, leasing out office space and eliminating all "non-essential travel."
Paste hopes to reinstate salaries before the end of the year, Purdy said.
In addition to the campaign, Purdy said Paste is talking with investors "who want to get involved and help accelerate our growth."