Don Welsh to Launch Regional Mag with Forbes

ForbesLife MountainTime aimed at affluent readers in the Rockies.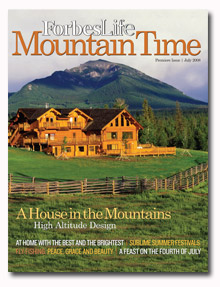 Don Welsh is
returning to the magazine game.
The
30-year-industry veteran and founder of the defunct Budget Living has partnered with Forbes for the launch of ForbesLife
MountainTime, a lifestyle publication targeting high-earning readers in the
Rocky Mountain region.
The magazine
will be published 20 times a year and distributed through local newspapers in
affluent ski areas, including Vail, Aspen and Telluride. Circulation will be
150,000.
MountainTime
is the second spin-off of ForbesLife, itself a lifestyle spin-off of Forbes.
ForbesLife Executive Woman, a 125,000-circ quarterly, launched last fall.
Welsh tells
FOLIO: that he had been incubating the MountainTime idea for a couple years and
was on the verge of launching before falling out with his original investors
last winter. During a lunch encounter with Forbes magazine group president and
long-time friend Jim Berrien, Welsh quickly found his new backer. Berrien told
him "Forbes wants to do this," Welsh says, and after a board meeting a deal was
struck. "It was that fast," says Welsh. "They acquired the whole deal, and me,
and I will be remaining as publisher for a minimum of three years."
'Ganging Up' in the Mountains
ForbesLife
MountainTime features a hybrid model of sorts, incorporating regional content
supported primarily by national advertising. Never much interested in selling
local advertising, Welsh's key to the national marketers was by ganging up a
distribution system through local papers in the affluent ski towns, each
ranging in circ from 5,000 to 10,000.
"The local
newspapers, because of their circulation size, could not get national
advertising like Mercedes or Grey Goose Vodka," says Welsh. "Even though they
have the perfect demographics, it's too small of a buy for 5,000 circulation.
They want 150,000 and up. And I thought if I put every cool ski town in the
West together in a network and had this magazine inserted every two weeks in
the local newspapers, I could sell national ads."
Welsh has 18
papers signed on as partners and he says six national advertisers have bought a
full run of 20 issues.
There is a
small amount of hyper-local coverage, as well as advertising. The magazine does
a split run, allowing it to inject a spread of editorial that's locally
targeted to a specific town, as well as a two-page spread of local advertising,
which the newspapers get to sell and keep the revenue.
"We have no
postage, no subscriptions. This magazine would cost $25-$30 million to start
if I hadn't come up with this idea of inserting it into the local newspapers,"
says Welsh, who declined to say what Forbes paid for MountainTime.
According to
Welsh, the magazine avoids directly competing with existing regional magazines—which
generally have much lower frequencies than MountainTime's 20x schedule—by focusing on national advertisers.
"We won't touch real estate advertising, restaurants and the art galleries and
stuff. It's all upside for everybody."
And Welsh
should know about the vagaries of advertising. His last venture, Budget Living,
an offshoot of Budget Travel, which was sold to Newsweek in 1999, folded in
2006 despite four years of circulation growth, ending its run at 500,000. "I thought we did everything right, but we were
fighting against Goliaths with big circulations and big budgets. And the
agencies, over and over, take the safe route, keeping their spending with the
big three publishers instead of spreading it around," Welsh told the New
York Times in April 2006.
Meet the Author
---