Don't Treat Non-Qualifieds as 'Throwaways'

Mining new products from non-qualified subscribers.
As more and more companies move to integrate their databases—so they can slice their data for multiple, cross-platform use—mining all of the data, not just top-line circulation demographics or subscriber interests, is becoming a key part of the publisher playbook. Non-qualified subscribers, for instance, can often provide clues to a new opportunity or even a new launch.
Such was the case with Advanstar's Modern Hygienist. The magazine was launched in 2005 after the company noticed that dental hygienists were not qualifying for the company's dental magazines.
"When reviewing our 'other—please specify' responses from our promotional returns, we consider whether or not there is enough interest to develop a supplement or magazine launch that would benefit those 'non-qualifying' classes," says Ronda Hughes, director of circulation, show logistics at Advanstar. "Modern Hygienist has added to our dental platform, which now extends across the entire dental market—not just dentists."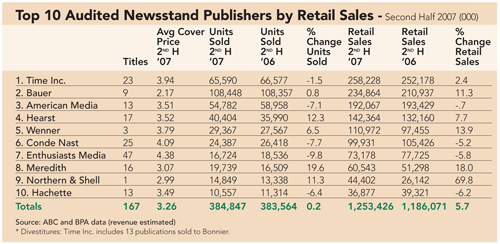 But given the economic slowdown affecting the launches of new products—not to mention the minefield that can be a BPA statement—the emerging trend now is to not look at non-qualified subscribers as throwaways.
"They may not be qualified for your magazine, but they could be a trade show attendee or receive an e-newsletter or copy of a digital magazine," says Questex circulation director Heidi Spangler. "In this day and age of e-zines, e-newsletters, and interactive Web sites, it's difficult to perceive anyone who is involved or interested in a particular market as 'non-qualified,'" says Hughes. Audience developers are shifting from the mind set of qualified and non-qualified circulation, she adds.
At Access Intelligence the recipient list for the Satellite Group's daily e-newsletter consists largely of non-qualified names from the group's other products, including the namesake magazine, Via Satellite. "We strongly believe that every name has value," says audience development director Stuart Bonner.
Use a Soft Touch
Once a cross-platform product is identified, Spangler says, a soft touch is crucial to seizing such an opportunity. "Do not try and sell them a subscription—they'll look at it as a pain or lie on the card the next time," Spangler says.
But don't be too cautious, Hughes contends. "As long as it doesn't interfere with the qualified count and it doesn't endanger your budget—I don't see a down side to reaching out to non-qualified circulation," she says. "If someone asks for information or they opt-in to a digital request, why not increase your advertisers' exposure?"
For Hughes, leveraging non-qualified customers is about broadening reach, particularly when it comes to digital. "Think about the primary reason why we have to limit our qualified print circulation to the top decision makers in a market," Hughes says. "It's because we have to find the balance between the mechanical costs of production and the 'just the right' number of subscribers to stay competitive. The great thing about digital is that we no longer have to limit business categories and titles."
On several of its automotive magazines, Advanstar started passively collecting subscription requests from what was considered "less desirable" categories within the market, and are sending them the digital version only. "Once those numbers grow to a level where we feel the market will show interest, we will then add them to our circulation statement," Hughes says.
Meet the Author
---