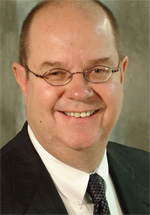 Our biggest gains have come from excellent e-media revenue growth (+30 percent) and e-commerce sales of our high value content. Our e-media growth exceeded the slip we saw in print advertising, although print advertising is modestly up year-over-year in the last quarter.
As print advertising stabilizes, a CEO's challenge is to develop a culture of growth for every revenue stream to get MORE than our share of budgets as they expand modestly. That means coming up with new content products, online and traditional, for our readers and more opportunities for our advertiser/exhibitors to sell to our business communities online, face-to-face and in print. We need the editors, publishers, sales staff, and audience development folks to create the ideas that allow us to provide more value to our customers as we ease out of the Great Recession.
The vision is to provide more value to our readers and more value to our advertisers and have them pay for it. We will continue internal training on how to listen to our customers and translate their needs into product that delights our customers. To employ best practices from across the company to enhance our offerings to our customers by sharing success stories company wide.
Blogs, forums, and online communities all compete for our readers' time. We need to have daily or better updates of Web site content in every market we serve to keep our brands front-of-mind among our readers. By the same token, we need to seek out our readers and/or know where to send them on the web to get answers we cannot readily supply. Again, it is about providing highest value to our readers as priority one. We need to be ready to link our readers to other sources of information that are relevant to them even if that means sending them to the competition for that particular answer. If there is a more popular and utilitarian Web site than ours, let's join for a while and learn all we can. Rebuild based on what you learn.
Desiree Rogers, CEO, Johnson Publishing
Charles H. Townsend, CEO, Condé Nast
Henry Blodget, editor-in-chief and CEO, Business Insider
Brian Rowland, president, Rowland Publishing

Greg Loewen, president, Emmis Publishing

Peter Johnson, CEO, Mining Media International

Ed Gillette, president and CEO, Scranton Gillette Communications
Bill Holiber, CEO, U.S. News & World Report and New York Daily News