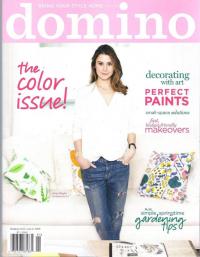 Magazine media means a lot of different things now. A digital presence is a given, a mobile one is assuming priority, and extensions like e-commerce are starting to become key to publishers' revenue streams.
Print still ties it all together for a lot of brands though.
That's the case for Domino, the decor and entertainment title that relaunched in October after a 4-year hiatus, according to Beth Fuchs Brenner, the magazine's chief revenue officer.
"Our core product will always be our magazine. It's the heart and soul, it's the vehicle that allowed us to bring back the brand, it's the halo," she says. "The Web and commerce aspects of the business weren't possible when we were first publishing, but they help complete the thought. We're a service vehicle, so it allows us to deliver the service."
Despite print's central role-and an audience that clamored for its return-the business model behind Domino's first iteration was faulty. It was a mass-market monthly that cost $3.50 an issue and had a 1 million-plus circulation at its height. It was one of many victims of the recession.
Diversification through digital and e-commerce initiatives have helped to correct that problem-they're equally important to print in a business sense, Brenner says-but so have drastic changes to the print model. Domino now retails for $12 per quarterly issue or $47.99 for an annual subscription. Brenner says they'll have a readership of 100,000 to 150,000 by the end of 2014.
"It's not about selling more copies to more people, it's about selling fewer copies to those who really want it badly enough," she says. "It's something I wanted to try for my entire career. And advertisers beat us up over it everyday asking why we don't charge more for our magazine. We believe-and we think the four years we were gone really proved it-that if people really wanted it, they would pay for it. So we're testing that theory."
Originally launched by Condé Nast, the magazine wasn't able to shift its model so radically back then. Now, Condé remains a "significant minority investor," but Domino operates independently from the publisher, Brenner says.
Instead, it's being managed by Project Décor, a home design e-commerce site, founded by Andy Appelbaum, Cliff Sirlin and Aaron Wallace.
"You can't turn the cruise ship around like that when it's part of a big company that's mired in the way they do business," Brenner says.