A Domino Swag Tag Sale

Pair of magazine's former editors do some spring cleaning—for cash.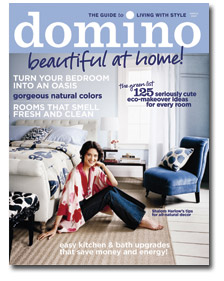 Footed African platter: $40
French 18th-century three-legged farm stool: $90
Selling free swag collected while working at a home design magazine: Priceless
What do a pair of laid off Domino magazine staffers do after the magazine closes? Have a tag sale, of course.
Dara Caponigro, the magazine's former style director, and Tom Delavan, who served as editor-at-large, rummaged through their New York City apartments to find that they had a combined 1,500 square feet of designer merchandise they amassed from photo shoots and other assignments.
 
From furniture to clothes to textiles, Caponigro and Delavan decided to sell off their assorted wares (cash only, of course) at a tag sale this weekend. The pair invited the magazine's former contributors as well as editor-in-chief Deborah Needleman to contribute, too.
At its best, it's an opportunity for cash-strapped aspiring home decorating stylistas to get steep discounts on designer duds. At its worst, it's a bunch of former editors turning a profit on goods that weren't intended to be sold publicly (check out their New York Times write-up here).
But, hey, here's to making the best of being laid off. Former editors need to pay the bills, too, right?
Meet the Author
---