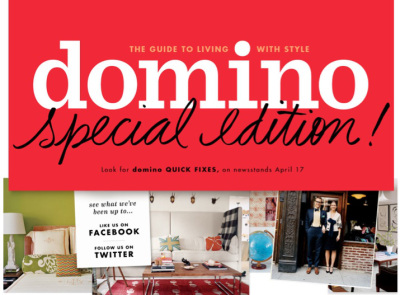 Domino magazine was one of the unfortunate victims of "The Great Recession," but the brand returned in 2013 with a new model and a new strategy. That is, now it's mixing traditional and emerging strategies like print advertising and e-commerce while targeting a niche audience.
Although Condé Nast essentially shuttered the title in 2009, it kept the brand alive through quarterly SIPs. Today, Condé Nast has a minority stake, and Domino Media is operating independently.
When Domino relaunched last year it introduced its audience to a robust e-commerce site with more than 30,000 products. And its first quarterly print issue was a single sponsor promotion with Target, which was a carryover partnership from when the dormant brand was producing SIPs.
Beth Brenner, publisher and chief revenue officer, suggests that the commerce model is strong and growing, but more than that, the brand retooled its print strategy and locked in 36 advertisers for its April issue. "That was our strategy from the beginning," she says. "Advertising is definitely important because we are a commerce company rooted in advertising."
In terms of scale, Brenner admits that the brand doesn't have lofty goals of expanding its reach to pre-recession totals. "This is a whole different strategy," she says. "Bigger isn't necessarily better. We don't have to go more than double from where we're at now."
What she means is the approach is more targeted now, and to a degree, more premium. The commerce model showcases shelter products, which requires no physical inventory. The print component is a quasi-hybrid magazine, meaning it has the look, feel and higher price point of a SIP, but with ad-supported pagination you'd find in most regular issues.
Brenner feels that for the time being there aren't any natural competitors in Domino's space. But she can foresee other publishers adapting a similar model–one rooted in advertising and commerce. However, she also makes it clear that it's not something a brand can develop on a whim.
"I think we had an advantage of starting over," she says. "It can be hard to have something and add on to it. It's not always a benefit to be first, but it's [e-commerce] a game changer."
Looking ahead, Brenner is candid on how she sees the future of digital ad dollars, which is why she thinks print is still such an important component. "I don't think CPMs will improve," she says. "Print is an art and digital is about analytics and measurement."
Nevertheless, she confesses she sees a lot of promise in native advertising and its ability to organically blend editorial and advertorial content. Still, she isn't counting on that avenue alone, which is why Domino has been discussing branded product opportunities.