Domino Re-Launch Focuses Model on Commerce

Roll out includes a new website and integrated e-commerce platform.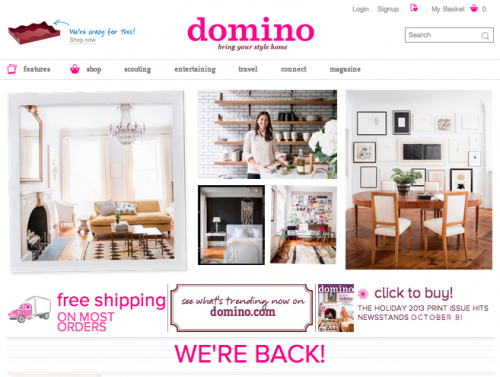 Condé Nast and the Domino Media Group revealed their new plan for the re-launched shelter brand, Domino, which reimagines the business model by leveraging content to drive commerce.
Domino folded its print operation in January 2009, however Condé Nast kept the brand somewhat active by rolling out a biannual special edition in 2012. The company announced in late August that it was reviving the title, and today its new site went live.
The content-to-commerce components include a newly launched responsive design website with social integration and a quarterly print edition. This new strategy blends editorial with digital commerce technology, which the company believes should add value the consumer experience while creating a sustainable revenue stream.
This is an extremely sticky model; one that keeps readers on the site and allows them to fully immerse themselves into the content, engage with the brand and other readers and dynamically select products for immediate or future purchases.
Co-founder Andy Applebaum agrees, "everything can live in a single environment," he says. "A consumer can come on our site and buy from a multitude of brands and check out with one click."
The new Domino site features 30,000 products that are integrated into the brand's archived content, which can also be shared across any social platform. Still, Appelbaum makes it clear that the brand's objective is content first. "We are an editorial shelter publication, and editorial first is very important to us," he says. "Our editorial team is out shooting and writing stories that they believe are interesting, engaging and valuable to our readers. Once they're done, we merchandise those stories."
The revenue model is not unlike any other retail model. Brands offer their products to Domino at a wholesale rate, which is then marked up and sold to the consumer. Orders placed on the website are drop shipped directly to the consumer from vendors.
Meet the Author
---