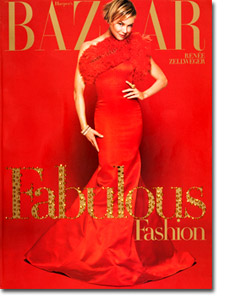 The line between advertising and editorial isn't getting blurry. It's getting blingy.
For the fourth year in a row, Harper's Bazaar has partnered with Swarovski to embed a special edition of its December issue cover with Swarovski crystal elements. Some 258 amber-colored elements were hand-affixed to 5,000 copies by Swarovski to the word "Fabulous" in the main cover line. In previous years, the elements were clear and affixed to the Bazaar logo.
The embedded issue is not sold on newsstands. Most of the 5,000 copies were sent to "VIPs in the fashion, beauty and media industries" (including one FOLIO: editor). Fifty are being awarded to readers through an online sweepstakes.
A beautiful cover, to be sure, but does embedding an advertiser's product on a magazine's cover violate the American Society of Magazine Editors' church-state rules?
No, says Harper's Bazaar. "The collector's edition is not available on newsstands and is not sent to subscribers," a magazine spokesperson told FOLIO:. "It is an ongoing partnership of four years which is within ASME guidelines."
ASME did not immediately return a request for comment.
It's the second time in a week that a national consumer magazine has been scrutinized for producing a promotional cover for a client. Some 10,000 copies of New York's December 10 issue were printed with a four-page cover wrap advertising the New Museum—using part of the magazine's logo in its design. The special copies were mailed to a select list of the city's "culturati," Andrew Essex, CEO of Droga5, the ad agency behind the promotion, told Portfolio. "So if you don't get a copy, you're not somebody."
"The cover has always been sacred, and this is the first time it's really been f*cked with," Essex added.
Well, not the first time exactly. The New Yorker came under fire in 2005 for the cover of its single-sponsored issue, which featured Target's colors and logo throughout the magazine.
New York, though, denied any wrongdoing. "Because these magazines are promotional copies mailed only to non-subscribers, we're comfortable that they're within ASME guidelines," a spokesperson for New York said last week.
Not all magazines that produce special covers act so clubby. The print run for such issues of Harper's Bazaar in the U.K. is much bigger than its U.S. sister. The logo on the September 2007 issue of British Bazaar was embedded with 200 Swarovski crystals, according to the Swarovski Web site. Fifty-thousand of the studded copies were available for purchase at London newsstands.