Does David Remnick Have to Explain the Obama Joke?

New Yorker editor defends caricature.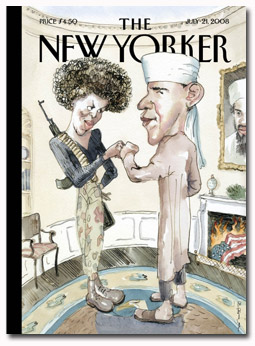 As you may know, the New Yorker is facing some bloggy fire
over its cover this week depicting Barack Obama and his wife, Michelle, as gun-toting,
bin Laden-loving, fist-bumping radicals.
A few things to note here:
1. Editor David Remnick's defense. "Our cover 'The
Politics of Fear' combines a number of fantastical images about the Obamas and
shows them for the obvious distortions they are. The burning flag, the
nationalist-radical and Islamic outfits, the fist-bump, the portrait on the
wall-all of them echo one attack or another. Satire is part of what we do, and
it is meant to bring things out into the open, to hold up a mirror to the
absurd. And that's the spirit of this cover." He later
told the Huffington Post that "normally I'd not want to explain jokes, or
short stories, or a piece of non-fiction that we publish-people always read
things the way they're going to read them," but since "some people have
misinterpreted it very quickly," he felt compelled to. Yet, why should he?
Satire is satire. Has the Onion ever had to explain one of their covers?
2. The irony of Remnick's 2006 interview with Obama
at the American Magazine Conference. Obama, who at that point had yet to commit
to running, told Remnick he wasn't sure he wanted to put his family through the
scrutiny of a presidential race. "My wife would be leading the bandwagon
for me to be running for president … if I was married to someone else."
3. Magazine editors love Obama. As we've pointed
out many times before, magazine editors seem to have a fascination with Barack
Obama. (At this point, their obsession with Obama is rivaled only by Britney
Spears.) Their depictions of the Illinois senator on magazine covers run the
gamut from angelic to absurd-each given an absurd amount of scrutiny. Surely,
David Remnick knows this.
4. Just because the New Yorker is liberal doesn't
mean it's gonna get a pass from them. As Jake Tapper, who covers the campaign
for ABC News, points out, "I believe the magazine's staff when they say
the illustration is meant ironically, as a parody … But it's still fairly
incendiary," Jake Tapper, who covers the campaign trail for ABC News, wrote on his blog. "I wonder what the reaction would
be were it the Weekly Standard or the National Review putting such an
illustration on their covers." It's a very valid point. I sense the reaction
would've been even fiercer had a conservative-leaning title published the New
Yorker caricature. (A few weeks ago, New York magazine published a photo illustration
depicting Obama and John McCain sharing a fist-bump at the beach; not much
outrage over that.)
5. It speaks to the power of magazine covers. Think
about how different the reaction would've been had this caricature been
published on an interior page of the New Yorker. Or as a back page in a general
interest magazine. Or on the Daily Show. Jon Stewart isn't answering questions
in the middle of the night about their on-screen graphics, I'm assuming. But
slap it on a cover, and, voila! Condé Nast publicists are working overtime.
Meet the Author
---