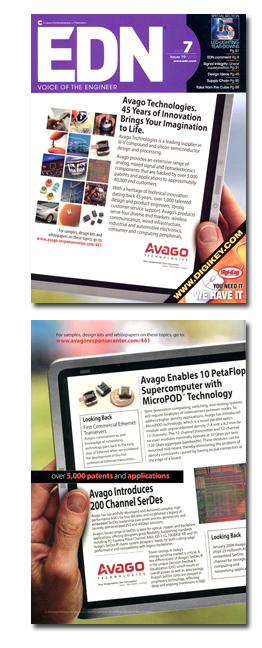 I've seen my share of advertisements on magazine covers over the last couple years. I've seen corner page-peels, belly bands and ad "windows" of varying sizes. I've also seen false, glued-on covers and gatefolds.
Something like this, however, I haven't seen.
The cover of the October 7 issue of Canon Communications' EDN magazine [pictured right, top] features the EDN nameplate as it usually would, but the remaining two-thirds—which normally is devoted to editorial—is all advertising. The space is shared by an ad from a company called Avago Technologies and a corner page-peel ad from Digi-Key Corp (which also has a full-page ad inside the magazine).
In fact, the Avago cover ad is actually a cover wrap. A variation of the front advertisement is featured as full-pagers on covers 2 [pictured right, bottom], 3 and 4. The "real" editorial cover [pictured below, left] faces cover 2 and is printed on the same heavy, glossy stock as the Avago cover (the true cover also features the Digi-Key page peel ad).
Now, I'm not a stickler about ad/edit rules like some people in this industry. If a publisher can make a few extra dollars selling cover real estate to an advertiser then more power to them. The trick, of course, is executing it in a way that doesn't interfere with the editorial message. But here, editorial has been pushed completely off the page.
Having never seen a cover treatment like this before, I pinged the folks at the American Society of Business Publication Editors to get their collective opinion. Here's their statement: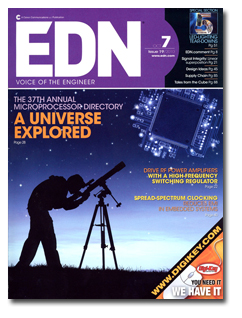 "A full-page front-cover ad that includes a magazine's logo, whether a 'false cover' or not, goes against the grain of ASBPE's Code of Preferred Editorial Practices and clearly undermines editorial credibility. It may also cast doubt on a publication's objectivity by suggesting that the magazine supports or endorses the advertiser's product or service.  Moreover, selling to an advertiser what is traditionally regarded as editorial space may lead readers to suspect that editorial content inside the covers has been sold."
I reached out to Ron Wall, who managed EDN at Canon until Canon was purchased by UBM recently and was moved under a new UBM Electronics operation (Wall now serves as senior vice president, managing the non-electronics Canon magazines under UBM Canon). He told me his team never thought that putting the EDN logo above the Avago ad would cause any confusion or suggest that EDN was endorsing the advertiser.
"In fact," he says, "our big concern was to make sure readers understood that this was still EDN and not a catalogue. We thought we were doing a better service to our readers to include the EDN logo at the top."
Wall explained to me that the idea with the extra cover came from the client. "The world we're in now, with ads all over Web sites, etc., advertisers are looking to get as much exposure as they can with the audience—whether it's in digital, custom or print," he said. "It's gotten to the point where instead of building something and then trying to sell it to a client, its more about listening to what the client wants and then building it."
I can't say whether or not EDN subscribers noticed or cared much about the cover. Wall tells me his team hasn't received any blowback from angry readers. For the record, he also says they haven't heard from any competing clients who are anxious to do anything similar.
So, what would you think if this magazine landed on your desk or in your mailbox? Does it cross the line or is it just a sign of the times? Please leave your comments below.