Does Color Count as Product Placement?

Use of advertiser's colors in sponsored issues: ethical?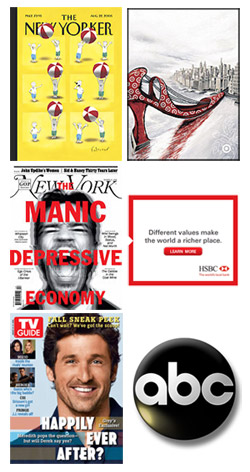 New York magazine this week joined a small but growing list of publishers to turn over their magazines to a single sponsor, selling 24 front-of-book advertising pages to HSBC, the European bank—making it the magazine's largest single-issue advertiser ever.
The New Yorker famously sold its entire inventory to Target in 2005, sparking a debate over the ethics of running a campaign that used illustrations, mimicking the New Yorker's famed covers, and a cover that, itself, featured beach balls mimicking Target's red and white colors.
While less known, HSBC's colors, also red and white, are used on New York magazine's cover this week. Intentional?
"Absolutely not," Serena Torrey, a representative for New York magazine, wrote in an e-mail. "Red, white and black are employed frequently on New York magazine's covers (and inside the magazine) and have been for decades. As Adam [Moss] said in his letter on the Table of Contents page, 'ads and editorial matter in New York are always completely independent of one another, this issue included.' Of course, the cover is some of our most important and visible 'editorial matter' and is always subject to exactly the same hard-line 'church and state' separation as is the rest of the magazine."
(Torrey, I should mention, attached 15 recent covers using red, white and/or black to prove her point.)
In August, TV Guide published an issue with ABC Television as its sole advertiser, with 21 ad pages promoting ABC Television's fall lineup. (TV Guide didn't bother matching ABC's color palette; they simply put Patrick Dempsey, the star of ABC's primetime drama Grey's Anatomy, on the issue's cover.)
While TV Guide's cover treatment raises legitimate ethical questions (Did they really sell the cover to ABC? Would ABC still have run its ads if TV Guide put, say, Kiefer "Jack Bauer" Sutherland on its cover?) there's nothing wrong with what New York or the New Yorker did here, regardless of intent.
But as perennial National Magazine Award winners, they'll never admit it. As David Carey, then-VP and publisher of the New Yorker, said at the time: "The editorial integrity of our product is a big thing."
Meet the Author
---