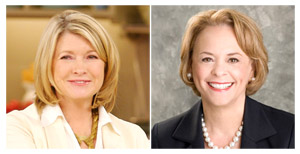 Ann Moore? Really? I mean, really?
I don't get terribly hung up on awards, especially in the publishing industry—a particularly self-congratulatory group that doles out a disproportionate amount of them. (It's not that I don't love the magazine industry—I love baseball, and baseball gives out an absurd amount of awards, too.)
Still, today's announcement by the Magazine Publishers of America that Ann Moore, the chairman and chief executive of Time Inc., will receive the Henry Johnson Fisher Award for lifetime achievement alongside Martha Stewart in January struck me as a wee bit premature.
After all, Moore is currently in the process of executing a dramatic, sweeping reorganization—one that includes a reported 600 layoffs at the mega-publisher. (And layoffs that appear to be trickling out of Time Inc.'s hallowed halls at a prodigiously slow drip.)
Moore's 30-year career at Time Inc. notwithstanding, in her tenure as CEO—since 2002—she really hasn't had a defining moment, at least, not yet. (In fact, one could argue, her defining moment is the financial crisis all publishers—and the world at large—are currently grappling with.)
If she can steer Time Inc. through the economic storm, well, she would deserve a lifetime achievement award and to be inducted into the Magazine Hall of Fame. Hell, she'd deserve to be in the Baseball Hall of Fame.
Just not yet.
As for Stewart, I can admit I've had a what I consider a healthy crush on the diva of domesticity ever since I saw her gamely wash down a bacon double cheeseburger with a cold can of Budweiser on Late Night with Conan O'Brien a few years back.
My love was unfazed by the ImClone stock scandal and resulting five-month prison term; the post-penitentiary poncho actually made me fall for her more.
That Stewart was chosen to be in the Magazine Editors Hall of Fame, to me, is a no-brainer. She's been in mine for a long time.