Do You Actually Have to Listen to an Album to Review It?

Black Crowes attack Maxim after writer disparaged record without hearing it.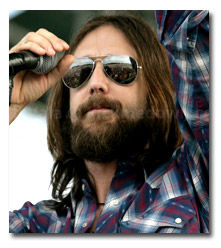 Maxim isn't exactly a bastion for journalistic integrity. Nor a bastion for music criticism. But according to the Black Crowes (you know, "Twice as Hard," "Jealous Again," Kate Hudson's ex, beards) the magazine burned whatever credibility it had left by reviewing the band's upcoming album without actually listening to it.
According to a post on the Black Crowes official site, the Maxim writer, who "has not heard the album since advance CDs were not made available—wrote what appears to be a disparaging assessment anyway, citing 'it hasn't left Chris Robinson and the gang much room for growth.'"
Peter Angelus, the band's manager, said when confronted Maxim called the review an "educated guess": "'Of course, we always prefer hearing music, but sometimes there are big albums that we don't want to ignore that aren't available to hear, which is what happened with the Crowes. It's either an educated guess preview or no coverage at all, so in this case we chose the former.'"
Angelos added: "What's next—Maxim's concert reviews of shows they never attended, book reviews of books never read and film reviews of films never seen?"
I'm awaiting word from Maxim's side of the story. But the incident does beg the question: Do you actually have to listen to an album (or read a book or watch a film) to review it?
UPDATE: An apology from Maxim editorial director Jim Kaminsky: "It is Maxim's editorial policy to assign star ratings only to those albums that have been heard in their entirety. Unfortunately, that policy was not followed in the March 2008 issue of our magazine and we apologize to our readers."
Meet the Author
---