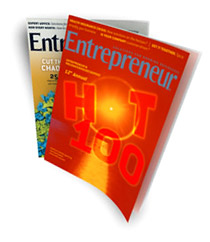 Earlier this month, I wrote about a weak case against Entrepreneur ("A Ponzi Suit That Sounds Like a Scam") in which a group of investors filed suit, alleging the magazine misled them about a company featured on its "Hot 100" list.
According to the suit, Entrepreneur "deliberately, willfully and recklessly failed to exercise due diligence in publishing information" about a company called Agape, whose founder, Nicholas Cosmo, was arrested and charged with a $370 million mail fraud. (According to Time.com, it appeared Cosmo was running an alleged Ponzi scheme, similar to Bernie Madoff's.)
At the time, I said the lawsuit was bogus. And I still think it is. But one of the arguments Entrepreneur is using to try to convince the court to dismiss the claim—while, perhaps, legally correct—sounds as almost as egregious as the lawsuit itself.
According to court documents filed yesterday, Entrepreneur, citing rulings in similar court cases, argued that it is "under no duty to provide information with care to its readers":
"New York law establishes … that a publisher is under no duty of care to its readers to ensure the accuracy of published information  … A publisher, even those who maintain a paid subscription service, such as Entrepreneur, owes its readers no duty to ensure the accuracy of its publications, and thus, cannot incur liability for an allegedly inaccurate statement."
A magazine is "under no duty to provide information with care to its readers?" I'm sorry, what?!?!
If not, then why publish a magazine or Web site in the first place? ("Screw readers, they don't need trusted information!")
What about the subscribers who invest in Entrepreneur? Don't they deserve accuracy? Or at least care?
Again, it's probably all legaleze, but it's awfully weird for a publisher to argue it isn't obligated to care about its readers.
Click here for a PDF of the court documents.
Entrepreneur's better argument (somewhat buried on page 10) is about the purpose of its "Hot 100"—and why investors shouldn't necessarily deem a company on the list worthy of their hard-earned cash.
"The Hot 100" list, Entrepreneur said, was "offered as informative material to an audience of general readers" and does not "draw any conclusions nor makes any recommendations to its readers, as to the financial suitability of an investment in any of the listed companies."