Do Marketers Want ROI or Just CYA?

Tracking the Bingo lead.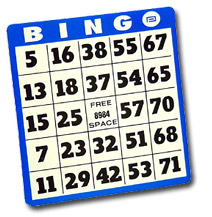 This entry is for PWLA (people who like acronyms). Many marketers (at least in tech, when I am) chant "R-O-I, R-O-I, R-O-I" whenever a salesperson is present. And woe to the salesperson that wants to talk about PRINT! They claim to need Return On Investment, and of course the only way to provide that is with online marketing (measuring clicks, click-thru percentage and lead generation). Marketers want a Silver Bullet–something that turns their art into a science. They think they've found it. Until you start asking questions.
Remember good-ole Bingo cards? Oh, I meant "Reader Service Cards." How did we handle claims that another magazine outpulled ours? You broke them down with questions. What is the quality of the leads? How closely do they track results? If someone calls in six months later, do they link that back to the Bingo lead? In 90 percent of the cases, the marketers did not track leads adequately.
Same is true today with online marketing–at least with smaller or medium-sized companies. They don't track whether the clicks became leads. Or later, sales. Their salespeople only follow-up on a lead once. The leads don't get followed up on at all. Nowadays, many marketers simply have a number of leads they must generate per quarter. Period. If those leads don't turn into sales, well, that's the sales team's fault. So, many times, when they tell you they want ROI all they really want you is CYA (Cover Your Ass). You should call them on it. And when you do, you can introduce another acronym to them that will also open the door for you to sell them badly needed print advertising. It's ROMO, and we'll talk more about that in the next post.
Meet the Author
---