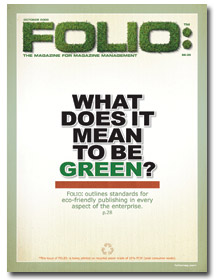 In the circulation and distribution realm, sustainable practices are one part of a dynamic and notoriously contentious industry-wide effort to improve the magazine supply chain. Wholesalers and retailers—Wal-Mart primarily—have already begun their own aggressive supply chain management initiatives. In early February, wholesalers, including Anderson News and Source Interlink, announced a plan to reduce the number of copies shipped to retailers by as many as 50 million copies—on top of more than 100 million copies in recent years.
Wal-Mart leveraged its retail might in January with the announcement that it was cutting over 1,000 magazines from its authorization list. "One of the things that happened to make that shift almost inevitable was Wal-Mart embarking on a sustainability initiative where they identified specific value chains that needed improvement—and the magazine supply chain was one of those," says Richard Lawton, senior vice president of CoMag.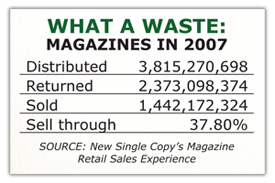 Yet what assists the entire chain in understanding which product and how much of it works best is data, and in recent years technology has enabled the principle players in the chain to get much better at using information to manage efficiency.
Hachette Filipacchi has been particularly successful at draw optimization by using data analysis. In the past, the company has succeeded in cutting an estimated 10 percent of copies from the system while increasing sales by half a point. "It's a matter of getting the right product into the right place at the right time," says Will Michalopoulos, vice president, retail sales and marketing for Hachette.
Data can also be used to look at store-by-store demographics to see how title mix can be adjusted according to the customers that shop there. "It's finding that delicate balance between putting in the right number of copies so that you're not wasting any, but you're not running it so tight that you have an opportunity cost of lost sale due to sell-out," says Lawton.
Additionally, systemic issues also need to be examined, principally rate base, which has taken heat as an not only an archaic media metric, but one that hinders efficiency at the newsstand. Pressure to deliver the minimum number of copies guaranteed to advertisers encourages flooding the supply chain. "We have the ability to—on a spreadsheet, anyway—see how we can be more efficient at meeting customer demand. But we're bumping up against systemic constraints that hinder further improvement," says Lawton. "Those things can be rate base pressure, where a 28 percent sell through for one title makes sense to the publisher, but it doesn't make sense for a wholesaler or retailer. There are misaligned economics for the different organizations in the supply chain."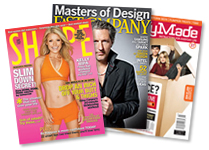 Recycle Your Way to Premium Space on the Newsstand

Last fall, a pair of major book retailers—Barnes and Noble and Hastings Books and Music—announced a promotion to give premium space in nearly 400 of their bookstores to magazines that use recycled paper. The promotion, dubbed "Green Paper for People and Planet," included prominent fixtures and special signage within each store to highlight publications using recycled paper with at least 30 percent post-consumer content.

Among the titles included were Shape, Fast Company, Mother Jones, ReadyMade, Nickelodeon, and Body + Soul, all of which were featured prominently in 153 Hastings Books and Music stores—at no charge to publishers. Barnes and Noble committed 10 slots for magazines—including Shape, Inc., Mother Jones, Mothering, Natural Home, Body + Soul, VegNews, Dwell and Yoga Journal—that use recycled paper at a heavily discounted rate ($1,200) in their top 240 stores beginning in January.

Maire Walsh, director of client services at Next Steps Marketing, says the benefit for participating magazines is not only a discount on premium rack-space, but an added eco-awareness for their titles. "Consumers really want to know what magazines are using recycled paper," says Walsh. "It shows that there are magazines in our industry that are embracing recycled paper."

"You often hear about recycled paper being poor quality, or that it costs too much and won't work financially for a publishing company," adds Shape editor-in-chief Valerie Latona. "If Shape can do it with a 1.7 million circulation size and still be successful and profitable, I'd have to say those excuses are not valid. There can be no more excuses."

Green Publishing Standards: Optimize draw by at least 30 percent to reduce inefficient distribution.

What You Can Do to Be Green: Fully exploit your access to store-level data. Create new formulas to direct copies to your best performing stores, while trimming draw at your bottom-tier stores.
Resources: MPA's Sustainability and Magazines seminar series; International Periodical Distributors Association
SEE ALSO:
MAIN PAGE
PRODUCTION | The Paper Problem
OPERATIONS | The Importance of Stewardship in Sustainability
EDITORIAL | Does the World Really Need Another 'Green Issue'?
EVENTS | How Eco-Friendly Can a Live Event Be?
MARKETING | A Paperless Future?
DIGITAL | Using Digital Editions to Go Green