Dissecting the Influential Product Review

FOLIO: looks at the ingredients necessary for honest, qualitative analysis.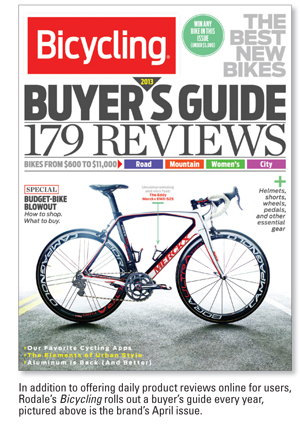 Product reviews come in two flavors—toothless profiles that don't weigh pros and cons, and those that truly provide a balanced look at a product. The latter can not only directly impact a product's success or failure, but can help secure—or drive away—readership.
"Our authority in reviews is one of the most important strengths of our brand and it's something that resonates with readers, the industry and advertisers," says Peter Flax, editor-in-chief for Rodale's Bicycling.
Bicycling does hundreds of reviews every year—its April issue is a buyer's guide and includes almost 200. Bicycling.com also offers daily reviews as well as user search tools that center around products.
"We excel in the qualitative analysis of products," he says. "We tell people what it feels like to use a piece of equipment, which is something that no lab test can create. There are very few people in America that have actually ridden thousands of bicycles and I employ a lot of the people who have. I have a network and test team of people that have ridden literally thousands of bicycles. At the heart of our reviewing and testing procedure is getting people on a bicycle or piece of equipment and riding in conditions that are varied and resemble how a reader might experience them."
Flax says the most successful product reviews are extremely subjective and opinion driven, instead of taking on a scientific focus, enabling the brand to have authority.
"The bar I set for everyone is to be unceasingly honest about the product—if there is something we don't like, we publish that," he says. "We indicate who we think a product is good for, and who it might not be good for. It is a lot of work to do that, and even though it solidifies our authority, it makes it a charged environment because we're a big brand in our space and sometimes we're saying less than favorable things about some of the products."
Since reviews are ferociously honest, the publication is at times openly criticizing or praising an advertiser. Both situations can be tricky at times—cutting down a big sponsor can be equally as damaging as praising one, especially when others have harsh reviews.
"Everybody knows that we're authoritative and that we're going to publish what we think—that's the end of the story," says Flax. "The minute we start paying attention too much to what someone in the industry or an advertiser thinks then we lose something essential about our product. It means that sometimes my phone might ring and I'll have to listen to a rant from someone in the industry. I'm fine with that because we accept no influence from advertisers—the second we are influenced we've lost something precious. It leads to headaches, but it's probably one of the most important elements of my job."
Beyond Expertise
IDG's online-only InfoWorld is a source of information on emerging enterprise technologies. The brand features product reviews every day, and also has larger franchise review lists.
Using an integrated communications approach including online, events, research and a continued investment in its independent Test Center, InfoWorld provides hands-on analysis and evaluation, as well as expert commentary on issues surrounding emerging technologies and products. Like Bicycling, InfoWorld depends on authoritative commentary.
"A deep level of expertise is by far the number-one criterion for good reviews," says InfoWorld editor-in-chief Eric Knorr. "We have a distributed network of people who do testing for us, and they're basically our reviewers. They know what the issues are in deployment, maintenance and testing. There is no magic formula for testing products, but it's more like having enough hands-on experience to determine what is important to test, and what features differentiate one product from another. It's pretty hard to get in the club because we only accept reviewers when we're certain they have the hands-on experience to handle it."
The authoritative voice of a product review, says Knorr, is what sets InfoWorld apart from its competitors in the space.
"It's important to crystallize what the key issues are in plain language upfront in the story to gain the widest possible appeal," he says. "In the technology market, you need to broaden the scope even with a publication like ours that deals with enterprise technology. Widening the scope and speaking to a reader at a business level can increase pageviews."
With specialized types of products, Knorr says it is important to provide different levels of accessibility to product reviews.
"Packaging of reviews, like any other editorial content, is extremely important and may be even more important with reviews," he says. "The types of reviews we're doing are so technical in nature—if you're talking just to the initiated, the people who already understand the stuff, you'll vastly decrease the audience. It's about going for a more broad appeal."
InfoWorld offers mobile versions of its reviews and the brand has found that different considerations should be taken for the type of review being offered.
"For long-form reviews, we also put them together as a downloadable PDF," says Knorr. "It gets a bit tiring to read this stuff on a browser or mobile device (because of screen size). The people who will read long-form reviews all the way through are serious—they're at the point of deciding to buy or not. We've begun aggregating more of our content in a downloadable PDF format, which users must register for. It's turned into another beneficial mode of transmitting our content."
While some product reviews are more accessible in nature, InfoWorld also gates some of its premium reviews through a registration form.
"I think it's something that's happening to publishing in general," he says. "Concentrating on nothing but pageviews and going with broad commodity content is a very difficult game. People that are registering for content provide valuable leads, as opposed to low CPM, high pageview content. Here we're talking about higher value, higher CPM and a more targeted audience—ultimately as the funnel narrows, that's where the leads are generated: From people who want to register to see a gated review."
Meet the Author
---