Disney Rebrands FamilyFun

Group to roll out custom publishing division, other initiatives this year.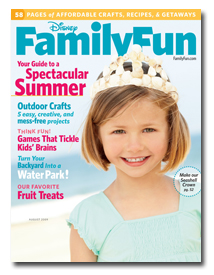 Disney Publishing Worldwide said today it is rebranding FamilyFun magazine into an integrated, multi-platform set of products, and is renaming the print edition Disney FamilyFun.
According to group vice president and general manager Aparna Pande, it was important to more clearly connect the FamilyFun brand with the Disney name. "There is real value in uniting 'Disney' and 'FamilyFun' so that readers and advertisers immediately identify and benefit from our rich legacy and positive association with families."
Disney also said it will change the name of its U.S. consumer magazine publishing division to the Disney FamilyFun Group.
As part of the rebranding, Disney expects the FamilyFun Group to roll out a number of branded initiatives this year, including a custom publishing division, a line of family cookbooks and a series of special interest publications, the first being a Halloween-themed book-a-zine.
No "material changes" are immediately planned for FamilyFun's Web site, Pande told FOLIO:. Pande joined Disney last summer after serving as general manager of Meredith's Parenthood Group.
In January, Disney said it would shutter three-year-old Wondertime magazine with its March issue. In February, Disney upped FamilyFun's rate base from 2 million to 2.1 million.
In addition to FamilyFun, Disney publishes 350,000-circ Spanish speaking quarterly Disney en Familia, which launched last fall.
Meet the Author
---