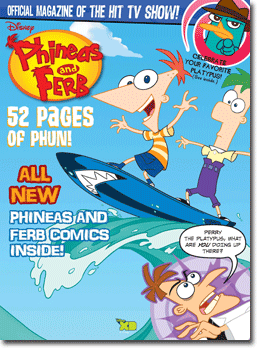 Disney Publishing Worldwide announced the launch of two magazines targeted at children – Phineas and Ferb, and Thor. Phineas and Farb is a bimonthly publication which will be available for purchase at retail locations such as supermarkets, bookstores, mass market and drug stores, as well as through subscription.
DPW will the follow the launch of Phineas and Ferb with three special interest publications focusing on content based on Marvel and Disney-Pixar films
Disney Publishing Worldwide currently distributes Disney FamilyFun, a magazine serving mothers. Along with Phineas and Ferb, Disney Publishing is releasing Thor in April, with Cars 2 (set to be distributed monthly) and Captain America being launched later in 2011. The publications will contain 52 glossy pages.
Disney rebranded their FamilyFun magazine in June 2009 in order to establish a closer connection between Disney and the FamilyFun brand. Disney also has the quarterly Spanish language Disney en Familia edition, which launched in the fall of 2008. Ad pages increased in 2010 for Disney FamilyFun, rising from 617.78 in 2009 to 667.11 in 2010.