Disney Shuts Wondertime; Hearst Stops Teen

Despite bump in ad pages, parenting title shuttered.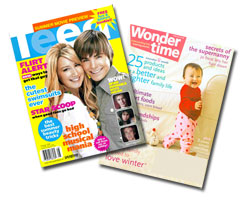 Disney Publishing announced late Thursday that it is closing Wondertime, a three-year-old title in the parenting category. The March issue will be its last.
Disney said Wondertime's Web site will be shut down, too.
It's unclear how many jobs would be affected by the magazine's closing. A spokesperson for Disney did not return a request seeking comment.
The magazine had managed to increase its ad pages 21 percent in 2008, but it wasn't enough.
Also on Thursday, Hearst announced it would shutter Teen magazine, the latest in a series of titles targeting teenage girls to fold—including CosmoGirl!, which the company shut down in December. Teen's circulation fell about 9 percent during the first half of 2008, according to the Audit Bureau of Circulations
Hearst acquired Teen and Seventeen from Primedia in 2003.
Meet the Author
---