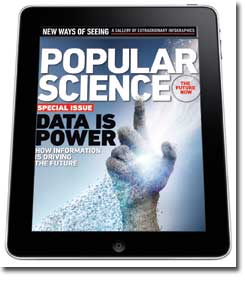 In the past two weeks since Apple Inc. launched iOS 5 on Oct. 12, magazine publishers have been racing to announce the availability of titles on Apple's new Newsstand. The feature automatically delivers new magazine issues directly to the homepage of an iPad, iPhone or iPod Touch. "It's kind of like having the paper delivered to your front door. Only better," the company's website says.
This instant delivery, among the other features of Newsstand, is not only a key aspect of the new technology, but a likely reason for the industry's rush to get involved.
"We are extremely happy with the early sales figures from Newsstand," says Bonnier's Technology Group Vice President and Group Publisher, Gregg Hano. "We're seeing, in the case of Popular Science and Popular Photography, somewhere on the order of a 10-fold increase perweek in unit sales."
According to Bonnier, as of October 24, Popular Science+ sold 3,900 subscriptions and 3,200 single copies in six days on the Apple Newsstand. Previously, the publisher was averaging about 75 subscriptions and 65 single copy sales per day. Additionally, for the week ending Oct. 16, Popular Science+ sold 2.5 times the number of single copies and subscriptions as it did for the entire month of September.
Popular Photography+ has sold almost 3 times the number of single copies and subscriptions as it did for the entire month of September and Sound & Vision+ enjoyed similar increases, the group says.
Bonnier isn't the only publisher having success. Conde Nast is reporting that in the two weeks since Apple launched the new feature, new subscription sales per week, across all nine digital editions, rose about 268 percent and single copy sales rose 142 percent. While numbers for Conde Nast and Bonnier have seen steady increases, the industry remains unsure of when the hype may die down around the newsstand.
"We're really optimistic about what we're seeing in terms of the initial lift in weekly digital subscriptions and single copy sales," says Monica Ray, Conde Nast's executive vice president of consumer marketing. "We were confident that we'd see growth when finding and browsing our titles became easier. What we have yet to determine is where it will level off. The numbers show that at least initially, users are embracing Newsstand, and through Newsstand our brands. We are very happy to see that more platforms are creating dedicated features/apps like Newsstand to showcase our digital editions and give consumers an easy way to discover and interact with our content."
Discoverability seems to be the phrase of the month that publishers are using when expressing excitement around the new Newsstand.
"It's absolutely key," says Hano. "We think the combination of there being a newsstand—a place where people can go to look for, buy and consume periodical materials—is huge. The fact that Popular Science and Popular Photography have done so well keeps them in good positions. We've been very fortunate."
While Apple is not formally featuring Popular Photography+, it is displayed on the iTunes Newsstand homepage as a new and noteworthy product—its positioning comes from its popularity with users.
"We have no formal arrangement with Apple as far as any promotional effort, I don't know about other publishers in this regard but for us, we believe it is the sales figures that are leading the position and promotion that we get through Newsstand," says Hano.
Hearst's Elle magazine is also a title being prominently displayed on the iTunes Newsstand homepage.
"The Newsstand is exposing our magazines in a more meaningful way than before when we were contained within the lifestyle and news categories of the App Store," says Chris Wilkes, vice president of the Hearst App Lab. "We are pleased with the response so far as we are experiencing significant lifts in app downloads and in app purchases of single copies and subscriptions. Combined with the growing device footprint, it means an acceleration of the pace of adoption of digital editions. The increase in visibility for our magazines is the best feature."
Unlike Conde Nast and Bonnier, Hearst declined to give hard numbers or percentages for its new Newsstand sales. At least one major publisher is not on Apple's newsstand at all: Time Inc. The publisher has up until this point not struck a deal with Apple on selling digital subscriptions, and instead has an authentication deal that lets consumers purchase all access subscriptions directly from Time Inc. itself, which are then authenticated on the iPad—the lack of a deal could be a possible reason for the absence of Time Inc. titles in the new digital newsstand venue.
For many publishers, the Apple Newsstand is just the beginning.
"I think we'll see other initiatives from Amazon with the Fire and, down the road, from the Android platform device manufactures and some partners that can build an ecosystem to sell," says Hano. "I think that newsstands in general are going to be one of the key drivers of subscriptions and single copy sales with each of the ecosystems that are gaining traction with consumers. That's why we're so excited for what's going on with Newsstand with Apple and newsstands for other devices—whether it is an Android platform newsstand with NIM [Next Issue Media] or Google One Pass or something else that emerges. It gives consumers a place to go and make brands more discoverable."
Outside, Looking In

Digital newsstand provider Zinio is also optimistic, despite the newfound competition from the Apple Newsstand.
"At Zinio, we're very excited that the Newsstand is out there because it is significantly enhancing the awareness of digital reading," says Jeanniey Mullen, global executive vice president and chief marketing officer for Zinio. "It creates a winning scenario for everyone—from reading fans that never knew they could get their magazines digitally to Zinio and any company that is in the digital magazine space that is now getting the nod from Apple that it's not only a cool thing but it's cool enough that they've invested in creating a way to organize the content that's been on the iPad for the last year."
Mullen adds that Zinio's newsstand has been the number one top-grossing app in the newsstand category across 50 countries since July, and it has not yet changed since the newsstand launched. The Zinio app has been in the top three spots for top grossing app overall on the iPad, which also hasn't changed.
PixelMags Inc., another digital content distribution company, is reporting that during the first week the Newsstand was available that the company had seen a 1,150 percent growth. The group represents publishers like Hearst UK, Crain Communications Inc., Imagine Publishing and Dennis Publishing, among others, according to a news release.