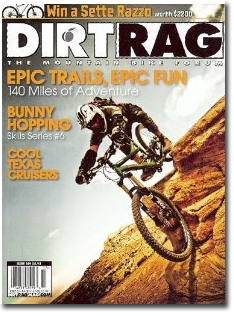 Aveda and the Green America Better Paper Project named the winners of the 2012 Aveda Environmental Award for Magazines. Dirt Rag, a mountain biking magazine, earned this year's top spot. Kansas City's green living publication Greenability landed the runner-up nod, and GRIT completes the top trio as finalist.
The Environmental Award for Magazines debuted in 2005, recognizing the best in sustainable publishing practices in the consumer and b-to-b sectors. Last year, Mother Jones and Experience Life took home top honors.
Of this year's winners, Better Paper Project director Frank Locantore said in a prepared press statement, "Despite the rise of the digital age, the world is using more paper than ever before. Dirt Rag, Greenability and GRIT are all examples of how we can make print more sustainable. They stand out in the magazine publishing industry, where only about two percent of U.S. publications regularly use recycled paper."
Dirt Rag currently uses 90 percent recycled, Forest Stewardship Council Certified and Process Chlorine Free paper; the magazine also encourages its employees to bike to work. 
Earlier this year, Locantore discussed the green movement in the publishing industry with FOLIO:, citing that interest in going green has not evaporated since the recession.
"There's not a difference in interest between 2007 and 2011, but there's a difference in action. Budgets have constricted, and staff sizes have decreased. There is more responsibility as remaining staff assume roles of colleagues who were laid off, and they don't have the bandwidth or the budget to continue green efforts," said Locantore. "To say that recycled paper is more expensive than virgin fiber paper is not always true. The paper market is extremely volatile, and the prices between recycled and virgin fiber paper can be comparable."