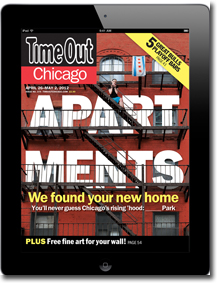 In a serendipitous series of events, Time Out Chicago released its tablet edition shortly after the new iPad launch. While the publisher didn't necessarily plan for it, president and editor-in-chief Frank Sennett says in general, timing played a large role in Time Out Chicago's tablet debut.
"We're seeing that the critical mass is finally happening. We're doing an ABC-audited edition, so we wanted to make sure enough of our readers are on the platform. We're a city magazine, and we wanted to see what the adoption rates were," says Sennett. "Last holiday season kicked the iPad into high gear; available [tablet] research and Apple's revenue numbers were also influences. Ad revenue is finally going more into mobile; we feel we have a solid technology partner and numbers are moving the right way. It's a sweet spot for us to jump in."
Executive editor Amy Carr, who led the tablet project through its development phase, says the iPad is a suitable pairing for Time Out Chicago [TOC] content. "It allows the user to interact with our content in a way you can't in print or online. Instead of static listings for all of our events, we direct them in the browser for up-to-the-minute access to listings. We animate illustrations from the magazine; we have movie trailers with every film review; we include links to music videos in our reviews," Carr tells FOLIO:.
Staff considered a variety of options for building the tablet edition (available only for the iPad, with Kindle and Android versions currently under consideration), including outsourcing production. TOC ultimately chose to keep the process in-house by using the Mag+ platform to create its tablet edition.
"We want to make sure we control the experience so we can link closely to our readers. It would break contact with readers if we sent files into the ether and a third party did it for us," says Sennett.
Staff Adaption, Pricing Strategy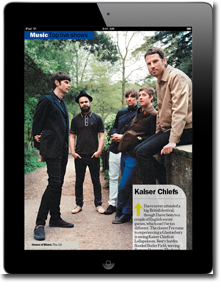 Additional staff wasn't hired for TOC's weekly tablet issues (its print edition is weekly as well). One designer is assigned exclusively to the digital edition, and his other duties were interspersed among current staff. Carr says TOC's production director and art director are spending up to a day and a half of their week on the new iPad edition.
With development choices came finalizing a pricing strategy. Print subscribers have the option to bundle their subs for a limited time for free. "We're running the offer for eight weeks; they get four free digital issues, but print subscribers can sign up any time in those eight weeks," says Carr.
Single digital copies of TOC go for $.99, and annual iPad subs are $14.99. Print subscriptions are $20 a year, and a print/digital bundle is priced at $25. "We wanted to honor the feeling out there that there should be some gain for consumers in reducing costs due to fulfillment and paper," says Sennett. "We do save money, but we have a completely separate production process; it takes a huge amount of resources."
Multimedia integration for existing and advertisers is another opportunity on the tablet platform, as well as ad size upgrades. TOC advertiser Steppenwolf Theatre Company is already taking advantage of the multimedia assets, running a trailer for an upcoming play in its TOC ad.