Digitally-Altered W Cover of Demi Moore Draws Fire

Another magazine cover succumbs to poor judgment, execution.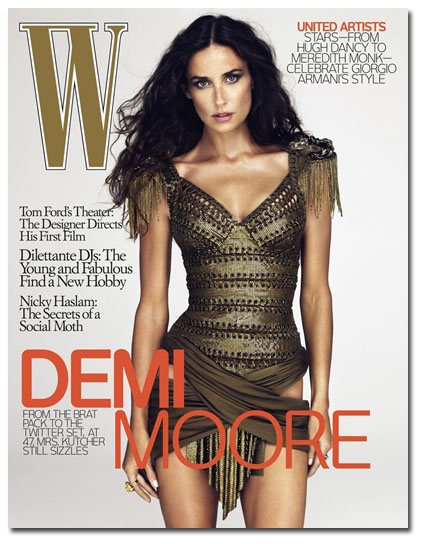 The number of outrageously poor digital alterations on magazine covers just grew by one.
The latest: Demi Moore on W's December cover. As Jezebel reported earlier this month, Moore's left hip was cropped in order to make it appear thinner, which had potential to be a deft move had the bottom half of her leg not remained the original size. Moore's one thin hip makes the rest of her leg bulge below the sarong.
But it appears to go beyond the hip snafu. Look at Moore on the cover [pictured]. She looks like a starving actress—like she hasn't eaten in weeks.
As if Moore wasn't thin enough, naturally.
Then there's Anthony Citrano, the L.A.-based photographer who took the original photo of Moore. He told Boing Boing: "When I look at it I can't appreciate it because I feel like there's a piece of dirt stuck in my eyeball. A neon arrow pointing at the screw up. When I see images like this I:
1. feel bad for the photographer;
2. feel bad for the subject;
3. feel like someone, somewhere, is a dumbass.
Doesn't anyone look at these pictures before they go to press?"
Moore fired back via her Twitter feed,
claiming the photo was not enhanced ("my hips were not touched don't
let these people bullshit you!"). She also linked to what she said is the original photo. In response, and in order to finish what he started, Citrano tweeted that he would give "$5K to charity if that's really the original."
If this is in fact a "Photoshopping" flub, it is just the tip of the iceberg when it comes to magazines over the last several months. The most egregious, in my opinion, was a city travel guide published by Toronto, Canada for which the face of an African-Canadian man was digitally imposed onto the face of the man in the original photo. (See a comparison here.) Other bright spots include missing appendages on cover models on recent covers of Marie Claire and OK!.
Mistakes happen, but why are goofs this bad still happening—especially at such big name titles? Maybe as an early New Year's resolution, magazine staffs should try to get at least one more pair of eyes on the final cover before it goes to print.
Meet the Author
---